No matter how good the quality of your new timber flooring, it also needs to be installed with precision and care for the best final result. As the experts in timber flooring restoration in Melbourne, we've had to step in on many occasions where the flooring has been installed incorrectly – both by DIY home renovators and contractors.
There are some telling signs that your timber flooring may have some issues – we'll break it down for you and give you some ideas on how to restore timber floors if you're dealing with these concerns!
Wide gaps
When wooden floorboards are installed correctly, you can expect that there will be some gaps in your wood floors to allow for expansion and contraction of the wood. However, it becomes an issue if the gaps in your floorboards are too wide or are irregular. 
While too-wide gaps in wood flooring aren't going to cause any real issues with your flooring, it takes away from the aesthetic and ruins the overall appearance. In many cases, the wide or irregular gaps are the result of the floorboards not being completely dry when installed, leading to tired looking timber flooring that could definitely benefit from a refresh. It can be worthwhile speaking with a flooring professional to perform some timber floor repairs or reinstall specific floorboards to create a more streamlined look.
Bad layout
Installing wooden floorboards isn't as easy as clicking them all together like a jigsaw puzzle – there's an art to making all of the edges and joins look just right. Also, most rooms aren't perfectly square which also needs to be taken into consideration – especially if you've got small areas that need flooring. A bad layout, coupled with incorrect installation, will be obvious once the floorboards are installed as you may be left with crooked edges, oddly sized floorboards and other anomalies that impact the overall aesthetic.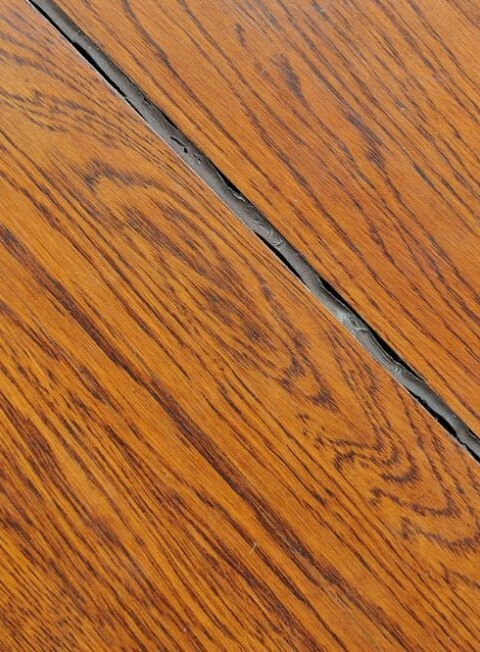 Poor sanding technique
Another tell-tale sign that your floorboards perhaps haven't been installed to the highest of standards: poor sanding. It takes practice to sand wooden floors correctly and if not done right, you could be left with chatter marks or obvious swirls. In some cases, the imperfections caused by sanding may not be evident until the finish is applied. 
And of course, it's important to remember that over time, scuffs and marks can also appear on the surface of your flooring. This natural wear and tear from dust and shoes can actually be a sign that you're due for a refresh using the sanding process. What this does is sand back the scratches and the damage, revealing a beautiful timber surface that will make it look like you've just installed a new floor – for a fraction of the cost.
Deep scratches, faded finishes
If you've got marks and scratches on your existing finish, it can make your flooring look old and outdated. Consider sanding back to a flat, unmarred surface, and redoing the old finish on your floor, as otherwise natural wear and tear can cause flooring to look uneven, dull, and lifeless. A new floor wood stain or new finish applied to your floors can help bring the floors back to life. But how to restore timber floors that are looking dated?
A new floor finish can take an old floor to the next level. There are several options to choose from when it comes to finishing up bare wood floorboards. Once you've removed the old coating, you can choose between satin, gloss, and matte finishes for a new look that's sure to elevate your space. Every option comes with their own benefits, and depending on the interior design look you're after, can accentuate specific pieces in your home. 
As a general rule, satin and matte finishes are long-wearing and are best for homes with heavy foot traffic – or if you like to change up your furniture layout often! For crisp modern looks, gloss finishes such as polyurethane coating finishes add a sleek and chic aesthetic that's hard to replicate. 
Make sure you have a look into the differences and decide what's a good option for your lifestyle and design requirements. Just be mindful to use proper personal protective equipment such as dust masks and gloves if you're looking to do your timber floor finishes yourself, whether it's polyurethane finishes or anything else.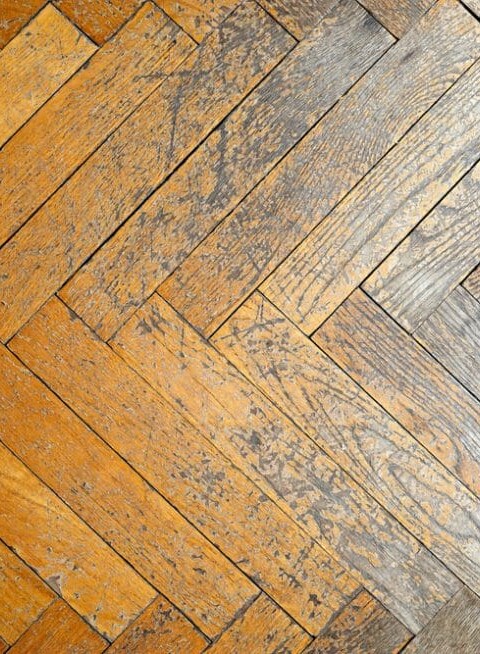 Cupping and peaking
Cupping and peaking are issues relating to water damage, and both can occur as the result of incorrectly installing the floorboards too close to each other without sufficient gap and/or using poor quality timber. With cupping, as the timber expands in the humidity it can cause the floorboards to look concave with a noticeable dip in the middle. With peaking, the edges of the floorboards become higher at the edges to form peaks. In some cases, less severe peaking or cupping can be fixed with a light sanding of the floorboards to help even out and rejuvenate wooden flooring.
Not sure how to restore timber floors? Get in the experts
Here at Kustom Timber, we don't just manufacture and supply high-quality European oak flooring – we also offer premium timber flooring installation. We have over 20 years of experience which means you can be confident that we know how to restore timber floors like the back of our hand. Our end-to-end service means we work with you every step of the way until you're left with a floor that lasts for generations.
If you feel like you don't have the time or skills to restore your timber floors to their former glory, let the experts take care of it for you.