If you're like most people, you love the look of good quality timber flooring. It's one of the most popular flooring options in living areas, and for good reason. 
However, some people are wary of a timber floor kitchen. After all, won't the timber just get damaged with all the moisture and spills? 
But that's not actually the case. Nowadays, timber flooring can be used to great effect in the kitchen. As the experts in timber flooring in Melbourne, we're here to share just some of the reasons why timber flooring should be integrated into the kitchen.
Sustainable material
For some, when it comes to kitchen flooring, it's not just about appearance; it's also about the sustainability of the materials used. 
If this is a consideration for your new kitchen design, engineered timber is a great option because only the top layer is made of slow growing hardwood. You can also find engineered flooring which is sourced from renewable trees. Canvassing your local flooring experts and looking into how and where they source their materials can be tricky, but there are definitely suppliers and installers that prioritise sustainable and environmentally-friendly practices whilst still producing high-quality flooring that ticks all of your boxes. 
Our floorboards are specifically designed to withstand Australian conditions, and all of our timber is sourced sustainably from FSC approved oak trees. We also carry out expert timber flooring installation for the perfect finished product.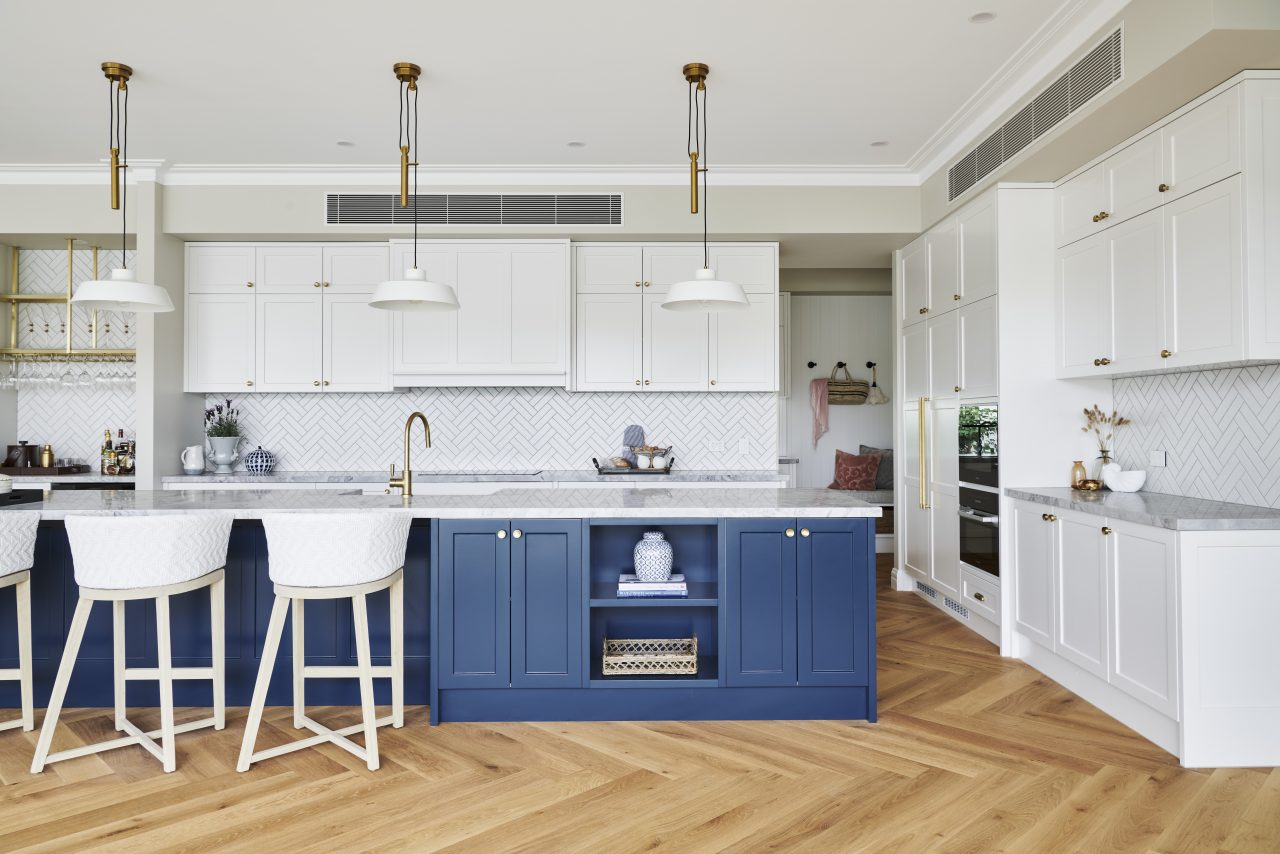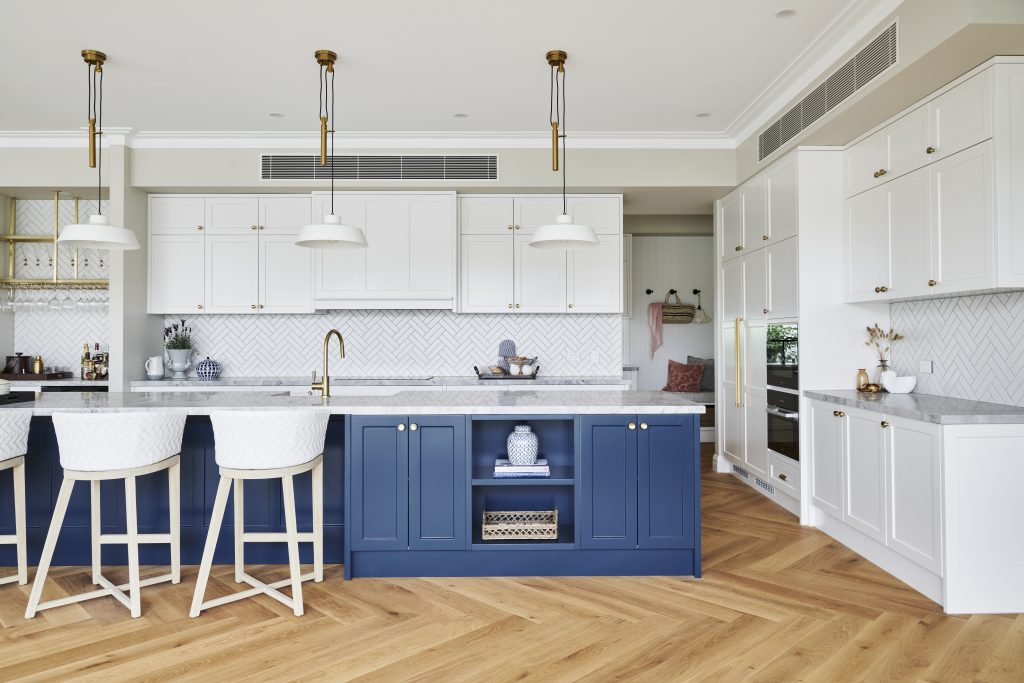 Durable and long lasting
The kitchen is the heart of the home, so it's no surprise that the flooring takes a lot of punishment. When you choose quality engineered timber flooring, you can be confident that you've opted for a durable option which will stand the test of time. With the right care and maintenance, hardwood floors can look amazing year after year, no matter the foot traffic in your kitchen. It's a popular choice over tiles and other flooring materials because wooden floors are an investment that not only look gorgeous in any room of the home, especially the kitchen, but also for its durability and longevity for the decades to come. There's a reason why wooden floors improve the value of a home, after all!
For example, if you're looking for something new, or wanting to spruce up old wooden flooring, you can also sand back timber floors to remove any built up damage. Sanding and refinishing floors is an excellent solution, helping you to emphasise the flooring's natural beauty and breathe new life into it. Simply put, it's a price-efficient way of reviving your wood flooring without having to fully replace it.
Easy installation
Engineered timber flooring is easy to install under the right conditions, especially if you get timber installation experts onto it. But if you have the know-how, you can even do it yourself! 
Easy maintenance
Worried about how to keep your floors beautiful, especially in your cooking spaces? It's all about easy maintenance in the kitchen, and you can't go past timber flooring for hassle-free care. All you need to do is give it a quick sweep each day to get rid of dirt and debris and then do a proper vacuum once a week. 
The main thing to remember is to clean up spills straight away to avoid water damage.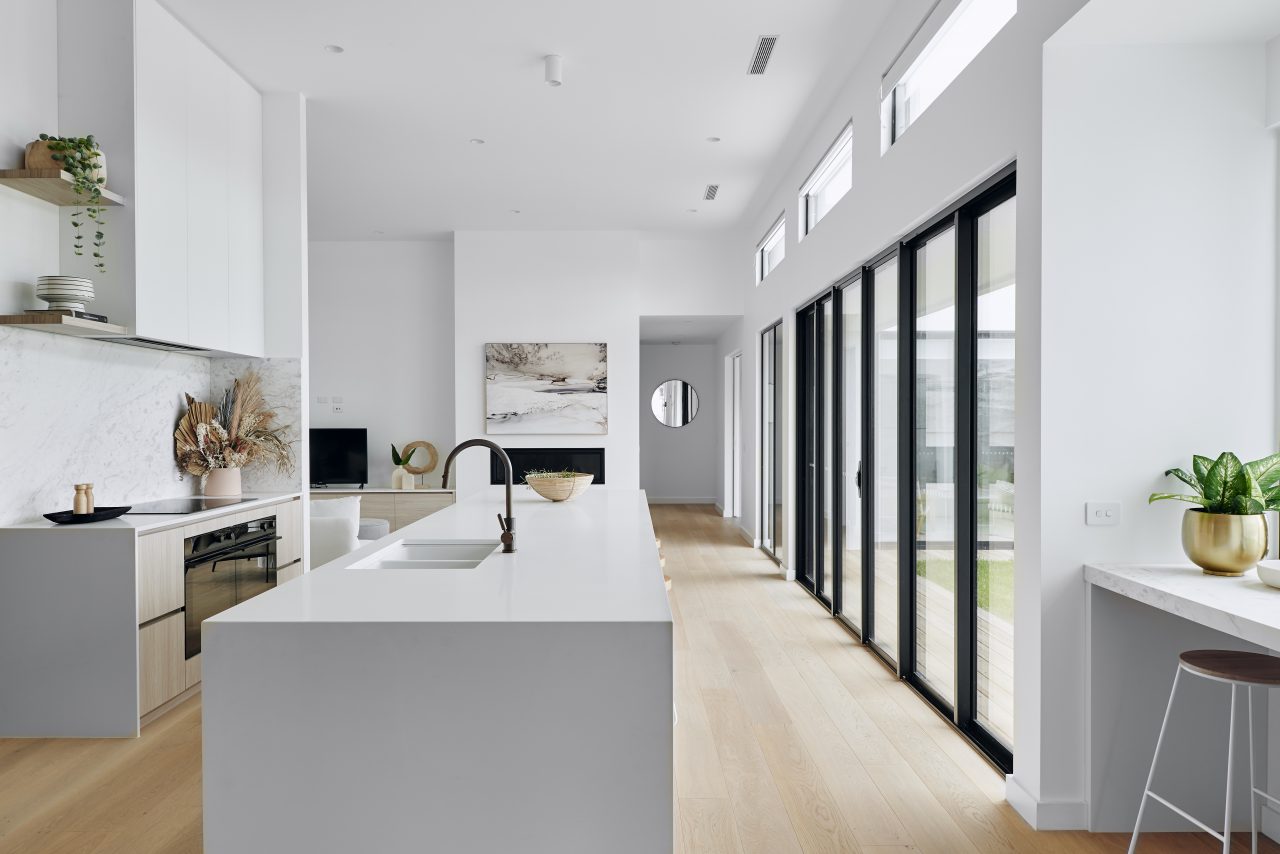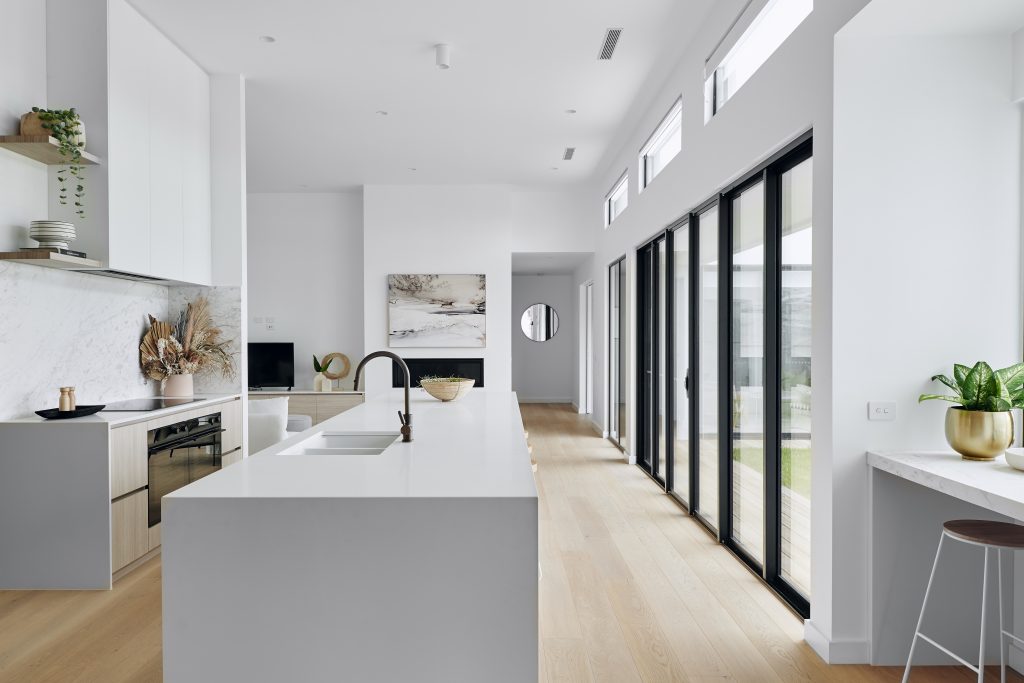 Range of colours and finishes
With timber flooring, you can choose a colour and finish that suits the style of your kitchen. Whether you want to opt for a darker colour to add some drama or prefer a lighter option to open up the space, you'll be spoilt for choice. 
You can also choose between a glossy, satin or matte finish. It's a good idea to find some style inspiration to help you decide on what finishes and shades you'd like the best for your cooking space, but it's also good to know that most interior designs are elevated by timber flooring, so no matter what you choose, your kitchen will look amazing.
Beautiful look coupled with comfort
One of the most compelling reasons to use timber flooring in your kitchen is that it looks beautiful, and has an ageless quality. There's nothing quite like the look of quality wood flooring; it adds warmth and character to your space, and is just truly timeless. 
And it works with every type of decor, too. No matter your interior design preference, timber flooring is guaranteed to look good and fit well with your vision, whether you have a kitchen with darker tones, or a light and bright space. 
Plus, you won't get chilly feet like you do with a tiled kitchen. 
But what about potential drawbacks?  
Here at Kustom Timber, we're passionate about providing stunning engineered oak timber flooring to transform your home. We'll work with you to find the right match for your design needs, and if you're worried about wear and tear in the kitchen, such as scratches or moisture exposure, don't worry! We'll give you a handy, hassle-free guide on how to maintain your beautiful new wood floors in the kitchen, so you can enjoy comfort, convenience, and a healthier air quality! 
Timber Floor Kitchen Design Inspiration
Take a look at some of our recent projects, using different patterns such as Chevron, Herringbone, and Plank. We've got a wide range of finishes available to suit different kitchen designs, whether you've got a white kitchen or want an edgier look for an industrial feel. For wood floors in the kitchen, take some inspiration from these beautiful projects!
Our Port Melbourne project used timber from our Habitat Collection in the Traditional Plank pattern, and finished in the breathtaking Beach House style.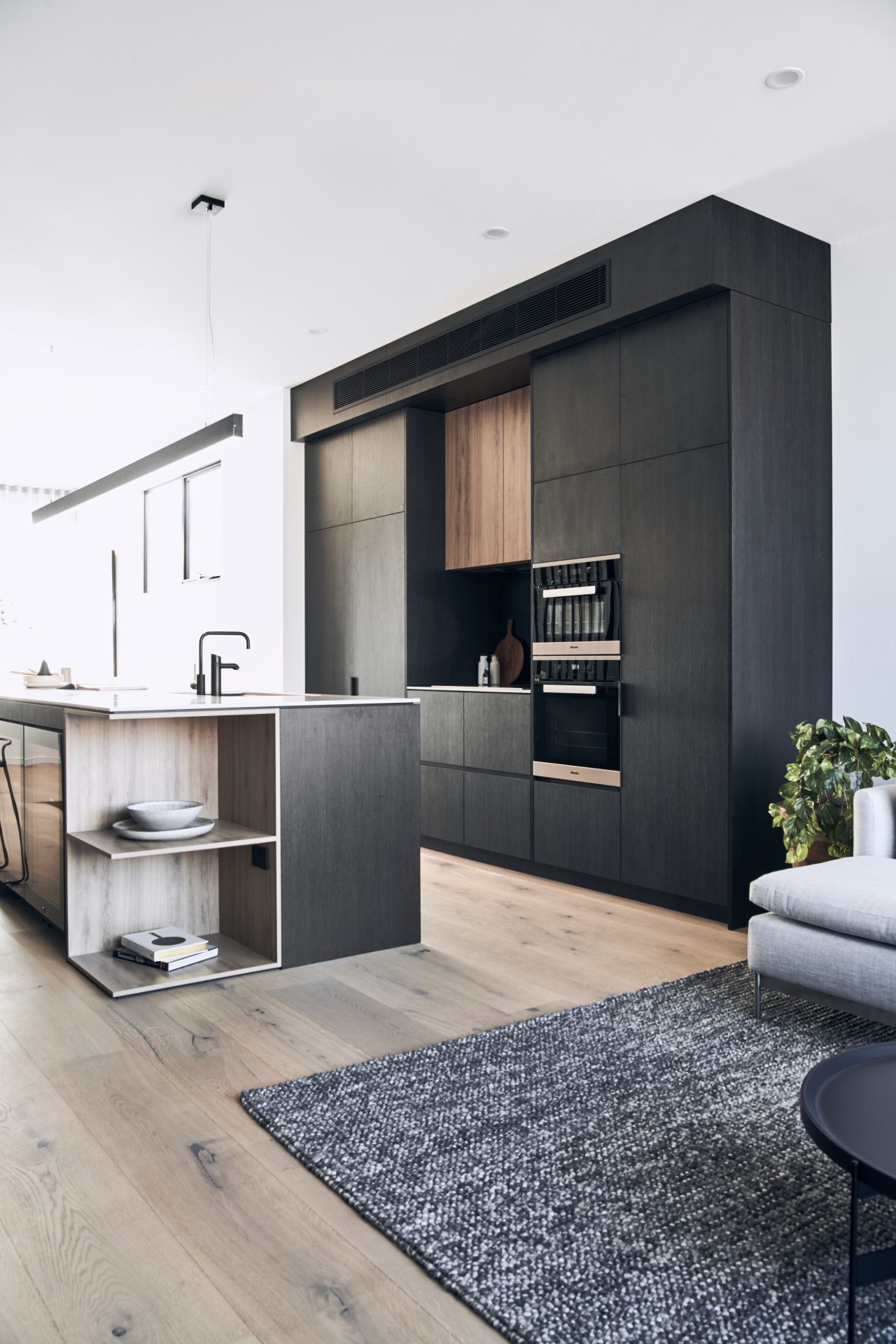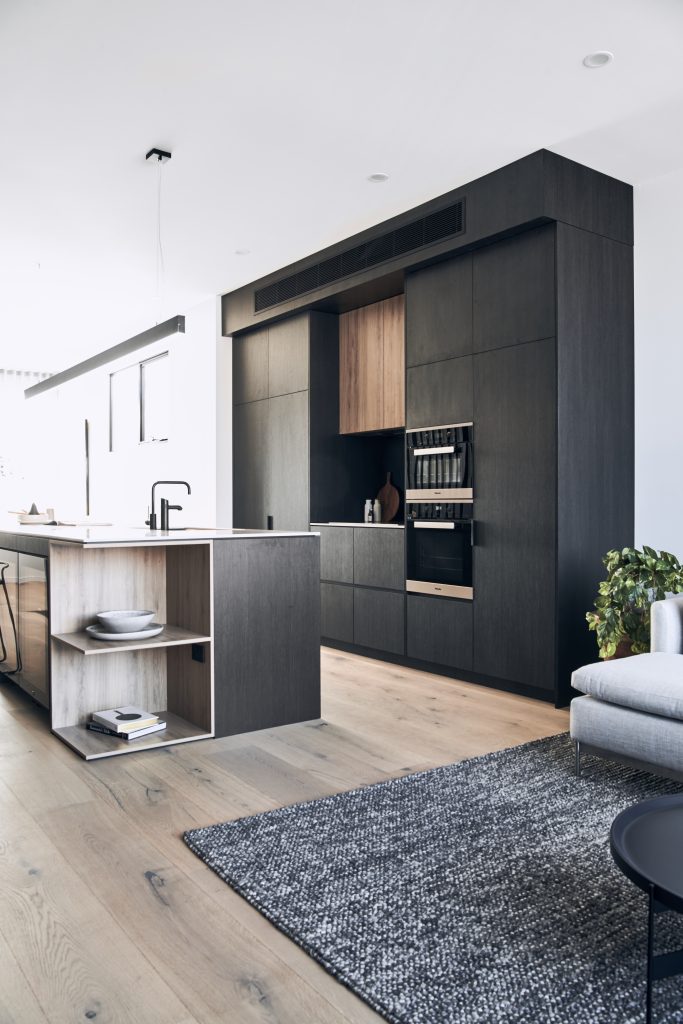 In the Mernda Project, a light and breezy living and cooking space looked classy yet modern, with a Traditional Plank pattern from our Immerse collection finished in Sea Fog elevating the area and creating an inviting and contemporary feel.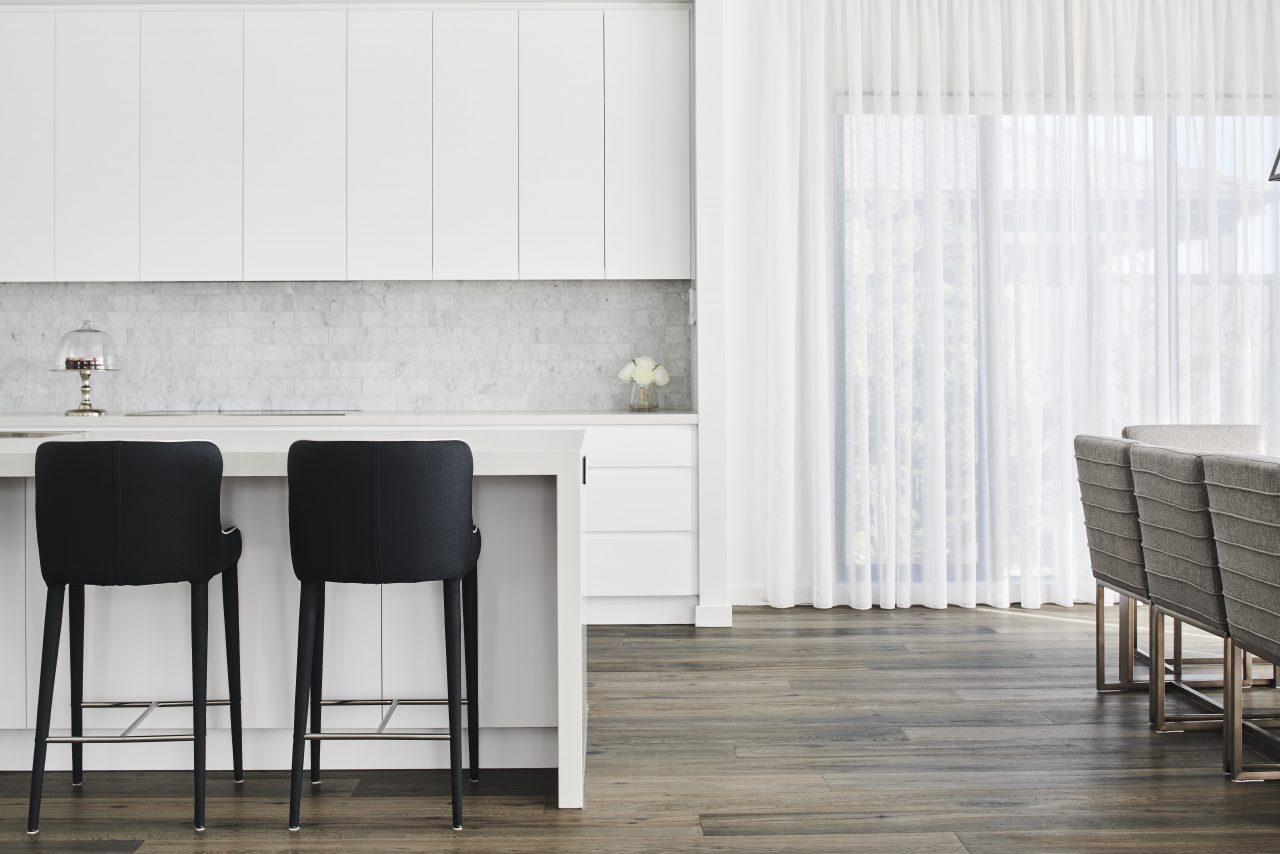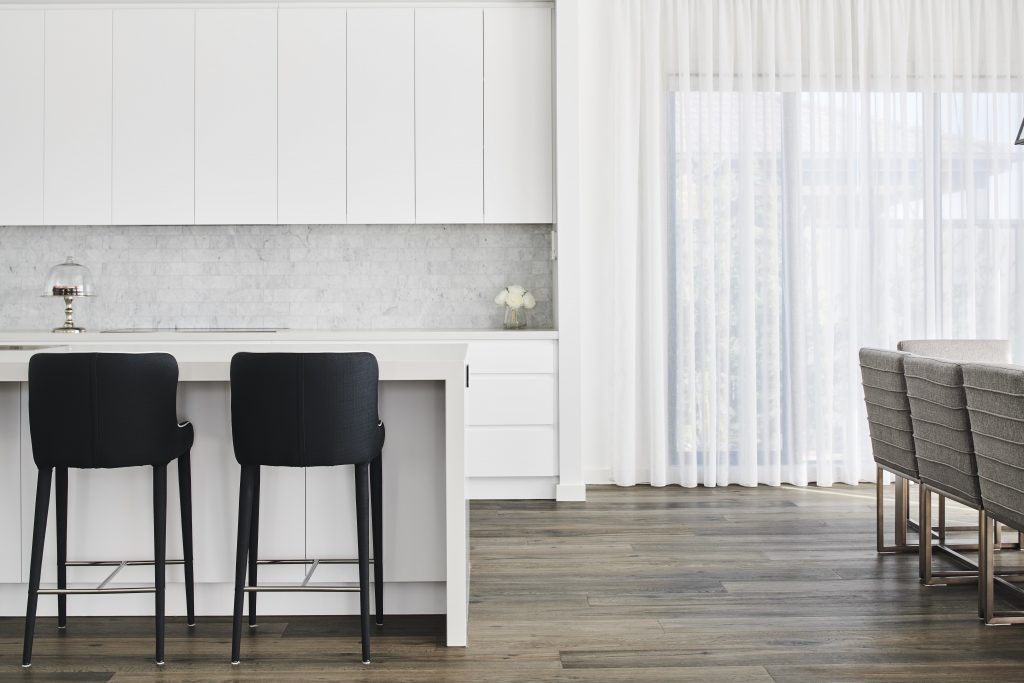 Looking for more inspiration for your kitchen timber flooring? Look no further – we break down 7 of our favourites in this blog.