It can sometimes feel like there are a million and one ways to lay down flooring for your ideal home. While that's not too far off the mark considering the various options on the flooring market today, it can be difficult to find the perfect match for your interior design vision. If you love the look of engineered oak flooring but want to do something a little different, parquet wood flooring designs might be just what you're looking for. Parquetry adds character to your home thanks to its decorative effect and it continues to be a popular option year in and year out. But what would you be getting with parquet flooring patterns? In this guide, we take a closer look at what parquetry is, and how you can use it to create the space of your dreams!
What is parquetry flooring?
Parquetry flooring finds its roots in medieval Europe, where timber planking found traction in residential areas from crude, unfinished planks to delicate, patterned wood flooring. This look is achieved by using small pieces of timber arranged in decorative parquet flooring patterns that bring out different, unique patterns. Historians say that parquet flooring styles originated in the 16th century in France, where Italian architecture and interior design began to influence buildings all over Europe, all the way to the Palace of Versailles. In Versailles, they used two types of parquet flooring patterns: chevron parquet flooring and what is now known as the Versailles panel.
In layman's terms, parquetry flooring is a specific way of arranging your hardwood flooring. It is perfect when used in conjunction with engineered timber. Rather than laying the planks side by side, small pieces of wood are arranged into a decorative pattern for a completely unique look. When it comes to the best wood for parquetry, oak is ideal because it's hard-wearing and looks sensational. Oak is also easy to stain and polish so you can get the look you want. The striking patterns that come with parquetry add a point of difference to your home, while also being timeless so you don't need to worry about it dating.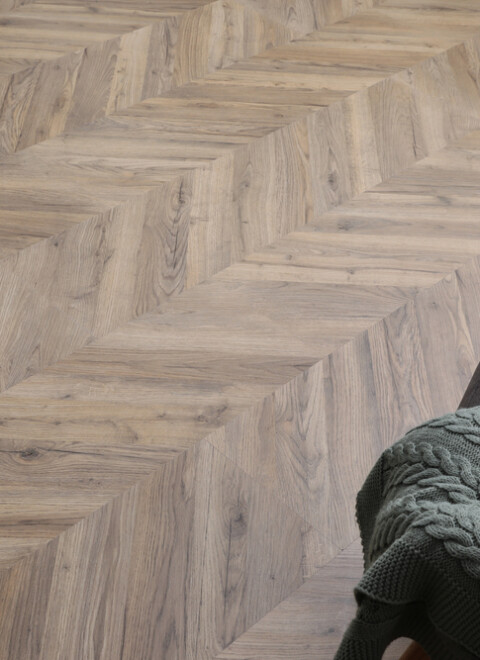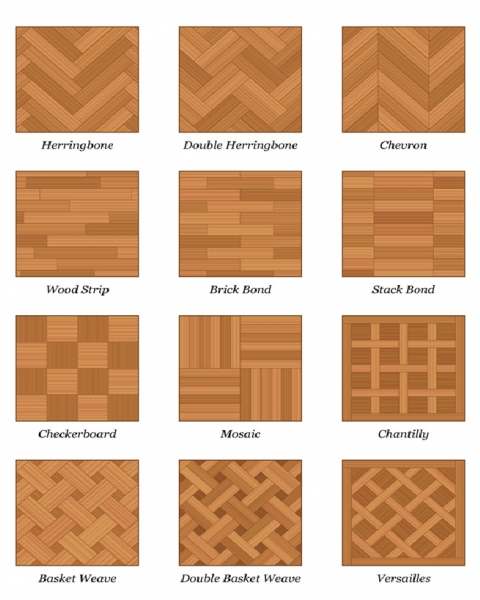 Chevron Pattern
A classic parquetry look is Chevron parquet flooring. Chevron parquet pattern is a classic pattern when it comes to parquetry flooring. It involves the engineered oak being arranged in a V shape with each piece cut on an angle to create straight lines that trick the eye with diagonal patterns. This versatile pattern suits a range of styles and the look will vary depending on the colour and design of your flooring.
Herringbone Pattern
One of the most popular looks in parquetry design is a herringbone parquet, which was first developed in Europe in the 1500s. While this style is similar to chevron in that the timber pieces are arranged in a traditional V shape, in herringbone design, each piece is cut as a perfect rectangle rather than on an angle.
Double Herringbone Pattern
A double herringbone pattern takes the design one step further by adding another piece to make the V shape thicker. The use of the double block is bolder and tends to suit larger rooms, as space is needed for the design to be fully appreciated.
Basket and Double Basket Weave Pattern
If you're wanting to elongate narrow spaces or smaller rooms, using geometric patterns such as the basket or double basket weave pattern might just be the right parquet flooring styles for your space. You can choose between a 4 x 4 square basket weave design, perhaps even laid diagonally, or even a loose basketweave design with a dark piece of wood laid in the centre for contrast.
One of the parquet flooring styles that often gets confused with a different pattern is checkerboard parquetry. In checkerboard, you'll find the flooring to be made of square blocks of solid or engineered wood. Size can vary depending on the wood species as well as what is available at the time – though it's becoming rarer and rarer to see this style of parquetry due to the difficulty of matching the squares precisely to the room size, as well as its perfect uniformity, which isn't as popular these days in interior design.
Mosaic Pattern
Mosaic patterns often get confused with checkerboard patterns. The main difference is that instead of wooden squares, mosaic parquet is made up of uniform strips of wood, of groups of four to six, that create a square shape. The pattern repeats with alternating sets of strips set at 90 degree angles, creating a geometric look that's grown in popularity over the recent years. Adding a colour gradient can also soften the look and feel, which can suit most preferences for wooden flooring and parquet patterns in the flooring industry.
Kustom Timber expert install service
If you're looking to have parquet floors installed in your home, Kustom Timber can help. Our range of engineered oak timber is perfect for creating beautiful parquetry and we have extensive experience in installing a range of unique designs for our customers. Our qualified carpenters will manage your project throughout the process and will deliver the perfect timber flooring. For custom parquetry, speak to us today or visit our showroom.
At Kustom Timber, we provide a range of traditional and designer finishes with our range of premium engineered European oak flooring. Manufactured to suit Australian conditions, our beautiful flooring solutions will transform your home. We pride ourselves on our attention to detail and our team is there to guide you through a personalised experience from start to finish.
For more information about our premium range of European oak flooring solutions, speak to the flooring professionals at Kustom Timber today on (03) 9645 3857.