Flooring is always a hot topic when it comes to creating a bespoke, unique space that looks and feels like the perfect home. And whether you're looking to capture the beauty of the Italian countryside with rich, warm engineered timber flooring or are looking for a more traditional oak finish, there's nothing quite like the aesthetic of engineered timber floors to take your home to the next level. 
When it comes to choosing new flooring, a lot of people aren't sure whether to opt for engineered timber or laminate. Do you opt for a wood-look finish or go for the real deal? Below, we've got the lowdown on what you need to consider when trying to decide between timber vs laminate flooring.
Laminate Flooring
Laminate flooring has been used by many homeowners to emulate the look of timber on a low budget. Laminate is created by deconstructing wood to make it into a pulp, and then creating a synthetic core from this for a strong foundation. On top of this core is a middle layer that has the embossed print recreating your favourite timber look, and the top layer is usually coated in a protective lacquer that guards against scratches and moisture damage.
What to consider with laminate flooring
Laminate flooring is durable, economical, and easy to install, with some variants allowing for floating floors to speed up the process of installation. However, it's important to be mindful that laminate flooring, due to its processing, can actually vary in quality quite a fair bit. It can't be sanded back or refinished, too, so when it wears out, it has to be replaced.
Some laminate floors, because of its low pricing, can also be very poorly made, which can translate to bigger costs for you down the line if you have to reinstall or renovate your flooring. 
Aside from this, because it isn't real timber, if you're not careful, the repetitive patterns can actually make it look artificial, too. There's also the fact that there's a lower resale value with laminate flooring, which is because potential buyers usually prefer natural flooring materials. So if you're thinking about engineered timber vs laminate flooring, this can be what helps you make your decision.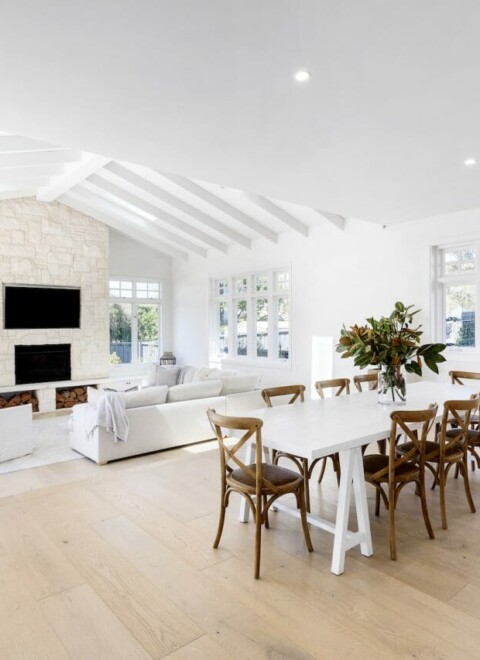 Engineered Timber
After that timber look but still wanting to stick to a budget? Engineered timber flooring is a great option. Instead of being solid timber, the plank instead has a timber layer over a base of plywood, which means that you have legitimate timber floors – not preprinted repetitive patterns. Engineered timber, an increasingly popular flooring choice, comes in almost any style and colour, and creates a beautifully natural floor underfoot that matches with any interior design.
So, what should you consider? 
Ensure you opt for quality
Still thinking about timber vs laminate flooring? Some engineered timber floors have very thin veneer layers. Designers are mindful to choose high quality engineered wood flooring due to possible thin veneer layers, which can affect your flooring's durability and lifespan.
Why does this matter? It means that if you're needing to sand your floors down and refinish it to refresh after years of use, you can look at sanding it down right into the core layer. So it's important to keep an eye on the veneer layer thickness. With Kustom Timber engineered timber flooring, most of our flooring options can be resanded as they have a 4mm veneer at a minimum – this means you can resand and refresh your flooring at least 2-3 times.
Will it warp?
Some designers think that engineered timber flooring can be really susceptible to warping and bending if met with water and moisture, due to its natural wood properties. However, it's actually important to know that engineered timber warps or bends far less than hardwood due to its strong plywood base, and there are products available to assist with surface moisture resistance, too.
Our timber flooring is also made specifically for Australian conditions. We know the Aussie climate, and we've created the perfect planks that will stand the test of time.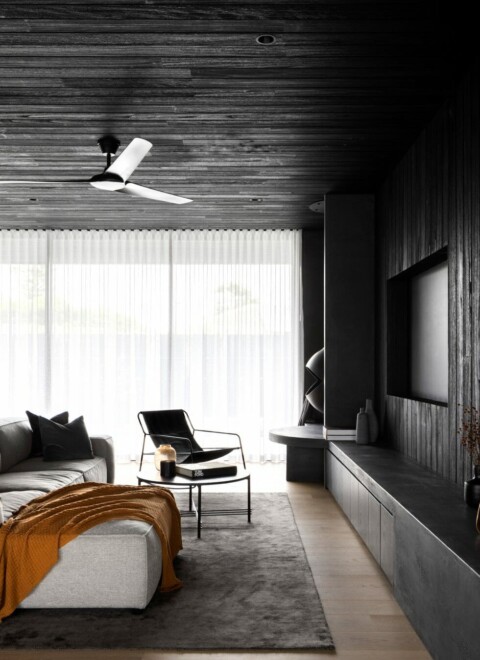 What about VOCs?
Volatile Organic Compounds (VOCs) are emitted as vapours or gases from a wide range of chemicals (both solid and liquid). Some low quality engineered timber flooring can be made with glues containing formaldehyde, which is a VOC. This has the potential to have some harmful side effects due to the chemicals it emits, so it's important to look into high quality manufacturers, as while there is no way to guarantee a product can be 100% free, a reliable manufacturer will strive to provide a product that is low VOC. You can rest easy knowing that Kustom Timber has created a range of flooring options that have the lowest VOC possible to create a stable flooring that keeps you and your family safe.
Engineered timber has character
When thinking about engineered timber flooring vs laminate wood flooring, there's no question – engineered hardwood, because it utilises real wood, just looks so much better. Hardwood has flaws and imperfections which give it real character and even the best quality laminate can't compete with the warmth and character of hardwood. If you're not convinced, go and take a closer look at both options in living areas– you'll see the difference straight away.
Longer wearing
Engineered timber flooring is longer wearing, too – a real hardwood top layer means that if you maintain it correctly, resanding and refinishing only when necessary, it can last generations and it becomes a part of your home. This restores them to their original glory and you can continue to enjoy the look of your floors, even in high traffic areas. 
Laminate can't be refinished – once there's too much damage, it needs to be replaced. Genuine hardwood is also able to stand up to punishment that laminate simply can't. Keep in mind that laminate flooring tends to last a maximum of 10 years.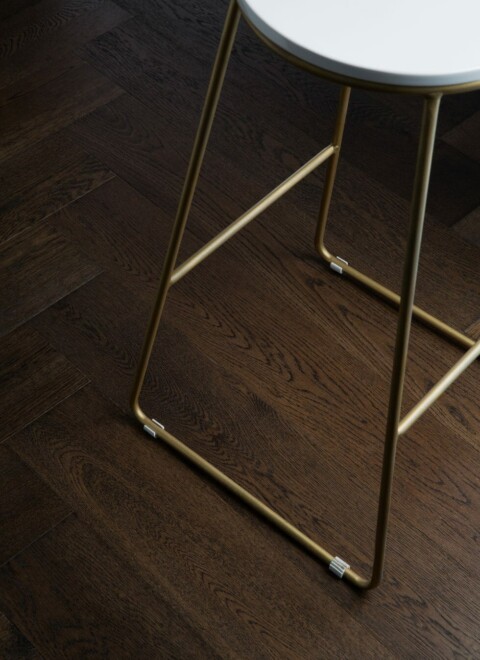 Timber vs laminate flooring - what's the verdict?
Laminate has the edge over hardwood flooring when it comes to initial cost. However, the fact that engineered timber lasts much (much!) longer makes it a good investment. Also, opting for genuine timber doesn't mean that you need to use solid wood floorboards – engineered options have a hardwood veneer and are generally more affordable than solid hardwood. And even if you're not planning on moving any time soon, it's good to consider the impact on resale when making big design decisions like your flooring. So if it's engineered timber flooring vs laminate, go for engineered timber flooring, as having timber floors is a huge selling point when it comes to putting your home on the market.
Still on the fence about engineered timber flooring vs laminate? Have a chat with our experts to explore your options! At Kustom Timber, we provide premium engineered European oak flooring for a timeless and beautiful finished product. We'll have the perfect product to suit your lifestyle and our team can carry out an expert installation. Give us a call today!