As the months grow colder, it's not unexpected to dream of summer days once again. Relaxed, beachy vibes and being able to take advantage of all the sun: there's just no better time of year! More and more homeowners are designing their homes specifically to harken back to the summer season, too, with coastal interior design gaining popularity in recent years.
We see this a lot in Australia, especially considering our climate is a great fit for indoor/outdoor living, and that beach style experience isn't too difficult to achieve. All it takes is really knowing what makes up modern coastal interior design, and what ways you can change up your styling to achieve the look you're dreaming of. For easy, breezy living, here's a quick and easy guide on everything you need to know about coastal interior design!
The Basics of Coastal Style Interiors
When it comes to coastal styles, think shades of blue and green, inspired by the ocean, contrasting against a background of beautiful, crisp whites and neutrals. This heavy influence of beach and ocean aesthetic not only applies to the nature-inspired tones you often see in coastal spaces but also applies to natural materials, such as timber accents and natural fibers.
Over the years, designers have made use of light oak timber flooring, rattan furniture pieces, and even driftwood installations to evoke that beach house feel. This attention to relaxed natural textures in home decor can be seen in the use of white textured curtains, pendant rattan lights, and raw-looking carpets such as loop pile wool carpets.
Nowadays, designers are really looking to upgrade coastal living, with a marked focus on nature-inspired tones and rustic finishes that have been elevated to the next level. Soft, earth-toned layers across walls and floors, pale-grey marble benchtops, all combined with the original coastal high ceilings and French- or bi-fold doors for a luxurious look that's still beachy and lets that all-important natural light into the room.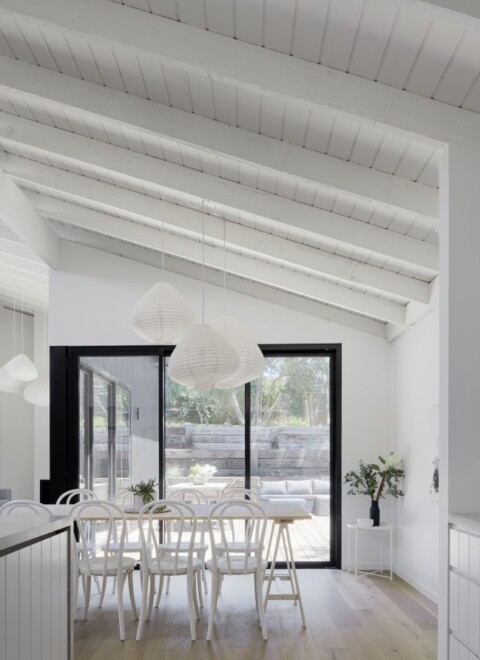 Creating Your Own Coastal Home
1. Lighting is key
Coastal interiors focus on some key concepts, and one of them is utilising as much natural light as possible. When trying to create a coastal design in your own home, don't underestimate how much white paint can transform the space! White shades reflect light brilliantly, and give off that vibe of a larger and brighter space, even without spending a lot on additional design pieces. If your living room is a smaller space, try giving the walls a fresh coat of white paint – you'll be surprised how much larger it looks, and having white walls as a bright, crisp base is the perfect, easy first step to create that coastal look that you're dreaming of.
Next up, you need to take a look at your windows and your doors. Whether you've got stacked or sliding doors, bi-fold or French, make sure to use a style that opens wide, letting the outdoor air, and the light, in. Try to keep simple transitions from indoors to outdoors, and if you've got windows above eye level, keep things light and breezy by using window coverings that fit the theme. Whether you've got light neutral shades, or plantation shutters, using gauzy curtains can be a great way to create some privacy while also bringing in more light and enhancing the look of your space.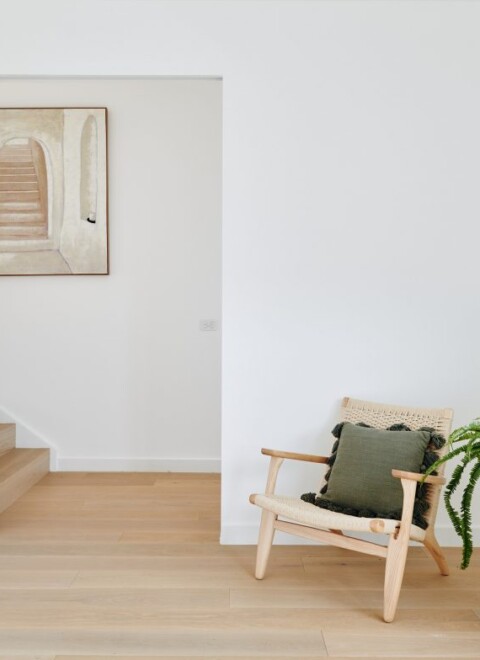 2. Timber Details
For modern coastal interior designs, texture is important in creating a cosy, breezy space with charm and laidback vibes. For example, when it comes to Hamptons style homes, there's a lot of focus on rough, natural edges and neutral tones that evoke a seaside aesthetic. So it stands to reason that coastal interior design styles rely on the use of natural, neutral tones and textures with shades of blue and green to capture that essence of living by the beach.
After a coastal look and want something that packs a punch? Blonde timber flooring is a great choice for when you're after coastal decor and a breezy color palette. For our timber flooring in Melbourne, make sure to go for wide, blonde oak floorboards to create a beautiful base that's casual and lived-in while still looking sophisticated (would it be too cliche for us to recommend Beach House?). If you're after something a bit more unique, try herringbone parquetry to really amp up that beachside luxe vibe.
You can also invest in timber finishes on your furniture. Light timbers, bamboo, or textured finishes on dining tables and chairs can help achieve that beachy look for less, and bar stools made of natural materials can help to soften the kitchen area, too. And don't think you're limited to furniture pieces: timber can be used to create beautiful feature shelving in any room of the house, so don't box yourself in and be creative with your decor!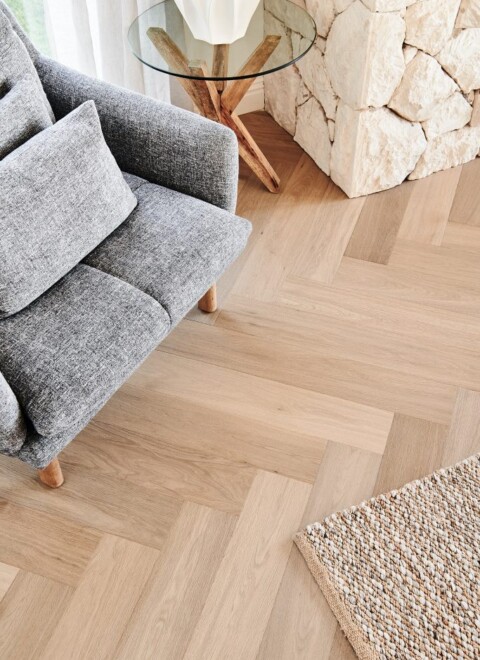 Simple Beachside Living
If there's one thing you need to take away from modern coastal interior designs, it's that no matter how big or small the space, it's best to stick to the essentials. Homes that are designed simply lead to easier to clean spaces, with less chances of clutter accumulating, and multi-functional spaces that you can use from day to night. When it comes to beachside living, simple is best, and that applies to both decor and your furniture styles, too.
For coastal interior designs, there really are no strict rules to furniture. What's common are versatile, relaxed and even mismatched styles of furniture, especially furniture that's been upcycled, too! Think dining tables with bench seats and timber chairs for seating, white chalk paint on furniture pieces, and woven accents and rattan doors on your furniture pieces. Distressed or weathered timber pieces help evoke that beautiful yet simple beach look, as well.
Most importantly – have fun with it!