Timber flooring is one of the most popular flooring options worldwide. From light honey tones and warm cherry shades, to chocolate depths, timber has been utilised as not only a steady foundational piece in designing beautiful rooms and spaces, but also as a versatile and long-lasting flooring option that has a high value. As the years go by, however, style trends change and new interior design ideas emerge. Recently, grey timber flooring has taken the world by storm; here's how you can style this beautiful timber shade for your home or business!
The Basics of Grey
Take a look at the latest style inspirations, whether it's newly-built homes in fancy areas, celebrity mansions, or even funky restaurants or office spaces. Grey tones have made their mark on interior designs as of recent years, slowly but surely becoming just as much of a foundational shade as creams and off-whites. An easy neutral, grey is an amazing base colour for any space because of its versatility. 
Various interior design styles can be beautifully complemented by grey timber flooring, especially with more than fifty shades of grey to choose from. This neutrality helps grey flooring to keep the balance, whether you're after a vibrant colour scheme, or want to use funky art pieces to draw the eye. Architects, interior designers, and homeowners have veered towards various colour options, from grey-tinged whites, matte greys, to even deeper, bolder grey shades to provide a beautiful base for gorgeous rooms.
Whether you're using laminate flooring or hardwood, the undertones of the wood are what make the floors come alive. Choose from undertones such as yellow, red, blue, green, and brown to evoke different moods for any space.
Timber with yellows, browns, and beiges as undertones ooze warm and inviting vibes, whilst flooring with blues and greens as undertones make any room feel modern and chill. Don't forget that the lightness and darkness of the flooring also plays a role in how the room looks, with light grey floors evoking an open feel, and darker greys emphasizing a contemporary look that's almost intimate.
It's no surprise that whatever your interior design visions are for your home, some form of grey wood floors can be an ideal place to start.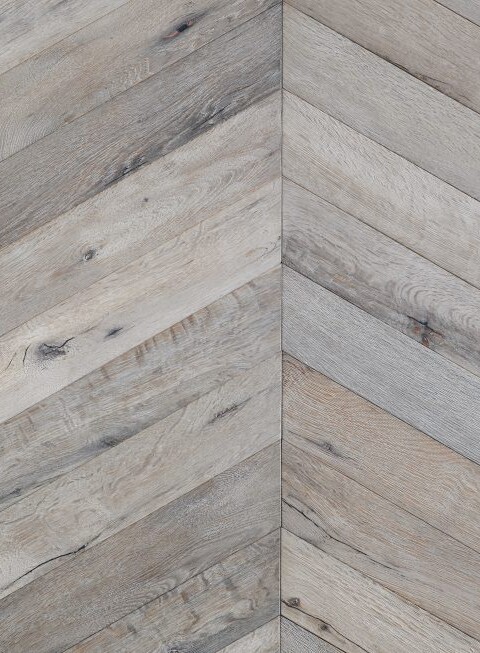 Natural, Earthy Styles
Love greenery? Want to bring the freshness and beauty of the outdoors inside? 
Natural styles for interior designs have made a comeback, with wood becoming a key feature not just with timber floors, but with planter boxes, furniture pieces, and various bric-a-brac. Grey timber floors with beige undertones, such as European oak flooring in light grey shades, complement natural, earthy interior designs beautifully without clashing with the rest of the room. Relaxing, rustic rooms benefit from bright splashes of green, from plants to bamboo furniture, and grey solid timber is an amazing canvas for your interior designs.
Place grey-based whites and cream-coloured throws, couches, and paintings, and play with various organic textures and natural features to create a lush space with grey hardwood flooring.
Soft and Inviting
If you want luxury that's still comfortable and welcoming, grey flooring made from natural timber looks amazing with blush or pastel pinks and rose gold or yellow gold metallic accents. Recently, high-fashion interior designers have utilised these colour palettes to create contemporary spaces that ooze comfort and style. Pink, gold, and light grey real wood flooring is an undeniable show-stopping colour combination.
Bold and Bright
After eye-catching interiors? Grey flooring is the perfect foundation for you to bring any room alive. Whether you're after bright pinks, greens, teals, or even bold accent walls, tiling, or funky furniture, neutral flooring makes perfect sense, not only because it's easy to match with bold and bright colours without being too much, but because it's also the perfect starting off point for you to design to your heart's content. 
Want retro styles with bright oranges and pieces that harken back to yesteryear? Or maybe you're after your own specific design, with personalised cabinetry and unique furniture. No matter the design, soft grey flooring works beautifully while you utilise confident, bright shades in any room.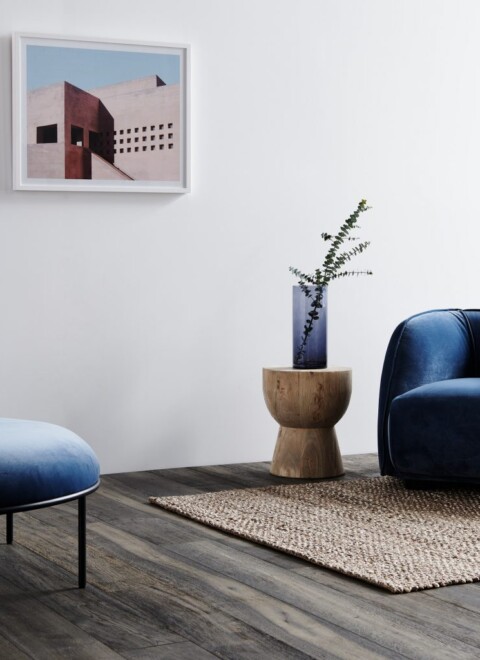 Some Easy Tips
Make sure to refer to your colour wheel to find what colours complement your interior design colours – this is key especially when styling grey floors with different undertones. 
For example, red-grey flooring looks soft and inviting with splashes of pinks and creams in the decor. Blue-grey floors look warm and dynamic with gold and brown accents. If you're after a more neutral look, or want blacks or whites in your decor, go for dark or brown-grey flooring. Otherwise, light grey floors look amazing with creams and beiges, as well as warm shades, while also complimenting silver tones if you're after an industrial look.
Remember to be mindful of the proper care and maintenance of your timber flooring, too. Whether you've got solid hardwood, engineered timber, or hybrid flooring, practical care is necessary. Over time, any wood flooring can accrue scratches on the top layer, but a simple maintenance routine can go a long way in increasing the longevity of the look of your flooring for generations to come.
Love the Look of Grey Wood Floors?
Have a chat with our friendly team today! With years of experience in the timber floor industry, we'll help you find the right product information, give you the lowdown on what the commercial warranty available is, and go the extra mile to help you narrow down your perfect flooring from our wide range of options. And because our engineered timber flooring, made from genuine European oak, is not only an environmentally friendly floor option, but works amazingly well in high traffic areas, you can rest easy knowing you're investing in the perfect flooring for the years to come. 
Cupping and peaking
Cupping and peaking are issues relating to water damage, and both can occur as the result of incorrectly installing the floorboards too close to each other without sufficient gap and/or using poor quality timber. With cupping, as the timber expands in the humidity it can cause the floorboards to look concave with a noticeable dip in the middle. With peaking, the edges of the floorboards become higher at the edges to form peaks. In some cases, less severe peaking or cupping can be fixed with a light sanding of the floorboards to help even out and rejuvenate wooden flooring.
Not sure how to restore timber floors? Get in the experts
Here at Kustom Timber, we don't just manufacture and supply high-quality European oak flooring – we also offer premium timber flooring installation. We have over 20 years of experience which means you can be confident that we know how to restore timber floors like the back of our hand. Our end-to-end service means we work with you every step of the way until you're left with a floor that lasts for generations.
If you feel like you don't have the time or skills to restore your timber floors to their former glory, let the experts take care of it for you.