Timber flooring has long been perceived as a high-quality, beautiful flooring option. Throughout history, we've seen how timber can be applied in different ways to beautify a space in the home, and its long-wearing, durable, and versatile quality has been proven throughout the years in millions of homes with differing interior designs. You, too, can have this elegant and long-lasting flooring solution for your home. But before you make the jump and pick out your dream timber flooring, here's some handy information to help you choose what type of flooring, design, and pattern, could be the best for your needs!
Solid and Engineered Timber Flooring
There are two types of timber flooring available on the market. Solid timber is the flooring that has been used since the beginning of wooden flooring. Made from old fashioned wooden planks, it provides a classic look and feel that's versatile and durable, with a thicker board that lends itself to multiple sanding and polishing. However, this can be costly as these planks come raw and untreated, and must be sanded and polished after they are installed, which can be a time-consuming method. Aside from this, it's important that the moisture levels are controlled during manufacturing as raw timber can warp and expand because of it.
Engineered timber, on the other hand, consists of floorboards that are composed of two or more layers of wood, bonded with heat and pressure. The top, visible layer usually comes prefinished, but can come in a raw and untreated state as well, to be treated after installation. The layers of cheaper plywood underneath this layer make for a sturdier and more durable floorboard at a fraction of the price of solid timber flooring. Because of its construction, engineered flooring has less risk of warping and expanding due to moisture, as well.
Depending on your personal preference and budget, one flooring option may be better for your home than the other. It all comes down to your aesthetics, as well as your lifestyle.
Sustainable Timber Flooring
Because of hardwood's unique character and beautiful look, it's a highly-sought after flooring option. But it's important to keep in mind that hardwood takes time to grow, and in order to ensure that your timber is sustainable, it's a good idea to ensure that your chosen flooring provider has been approved by the FSC (Forest Stewardship Council) as this means that the timber has been sourced responsibly from a forest and supply chain. This certification ensures that your timber, regardless of whether or not you are wanting solid or engineered, have been sourced in a way that protects the environment. Kustom Timber prides itself in focusing on sourcing timber that fulfills these requirements.
A Wide Range of Hardwood Timber Flooring
If you're looking around for a comprehensive list of options for your hardwood timber flooring, Kustom Timber provides a wide array of timber for your perusal, whether you're after solid or engineered timber. Depending on the look that you are going for with your home design, you're sure to find an Australian timber flooring that will beautifully complement your home in our Outback range.
Blackbutt

With a light tone, subtle knot patterns and grain, Blackbutt flooring not only brightens up the home, but also complements minimalistic and bright interior designs seamlessly.

Bluegum

Warm and charming, with beautiful knots and a grain to boot, you'll be hard pressed to ignore this beautiful timber and how it'll match your home design.

Brushbox

With muted beige to brown tones, and a striking grain pattern, Brushbox flooring can exude the cosiness and warmth that any home would benefit from.

Chestnut

A beautifully toned wood, with distinct gum veins that exude character, if you're after a rustic look, Chestnut should definitely be on your list.

Grey Ironbark

With wide knots, a warm and rich tone, and a unique grain pattern, the Grey Ironbark timber is an elegant flooring option regardless of whatever interior design strikes your fancy because of its versatility and durability.

Jarrah

A wavy and unique grain pattern, with knots all around, this warm toned hardwood is a fan favourite not only because of its distinctive beauty, but also its durable character.

Spotted Gum

A medium to light beige toned wood, with wide knots and varied tones in its grain pattern, the Spotted Gum timber is perfect for homeowners who are wanting a lighter flooring, but with a beautiful character to it.

Tassie Oak

With a straight grain pattern, little knotting, and a bright tone, it's no surprise that Tassie Oak's versatility and charm has pulled lots of homeowners in.
Styles & Finishes
If you're in love with the look of wooden flooring, but want to spice it up a little, it's a great idea to look into customising your floorboards by means of different styles and finishes. Aside from laying down the timber as floorboards, you can also get timber flooring in the parquetry style, as shown below in Kustom Timber's different projects over the years:
Light Years, Burleigh Heads
COLLECTION    – Como
FINISH                – French Chateau
PATTERN           – Herringbone
The striking grain pattern and knots, coupled with the beautiful Herringbone pattern in the French Chateau finish provides a muted elegance that's hard to replicate.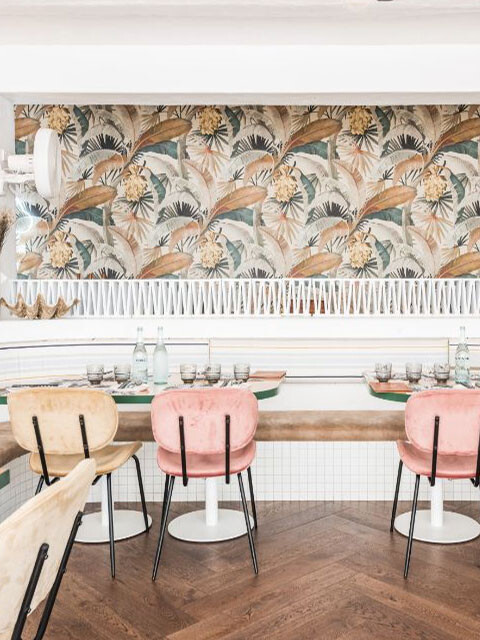 Brighton Project
COLLECTION    – Immerse
FINISH                – Nordic Blonde
PATTERN           – Chevron
Light and airy, the Chevron pattern provides an aesthetically pleasing symmetrical look in the Nordic Blonde finish, providing a bright and cheery vibe to any room.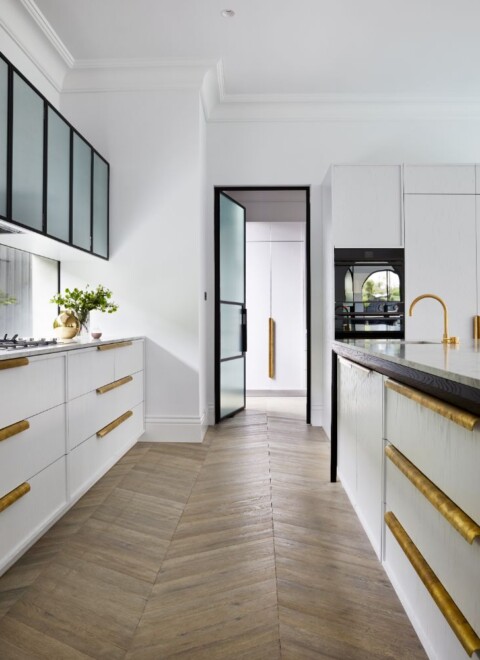 Toorak Project
COLLECTION    – Habitat
FINISH                – Beach House
PATTERN           – Herringbone
The Beach House finish in the Herringbone pattern harkens back to sunny days and chill summer times effortlessly, and provides an easygoing vibe to the home.
As you can see, timber flooring is an elegant option with a versatile range of applications. Whether you're wanting to elevate the look and feel of your home to one of elegant luxury, or want to underline the rustic and homey feel of your living space, the simple addition of wooden floors can take your home from average to uniquely gorgeous.