Parquetry is making a grand comeback. 
With its array of eye-catching patterns, parquet is essentially a geometric mosaic of wood pieces, creating a beautiful decorative effect. 
Parquet flooring has long been admired for its sophisticated, custom patterns that can beautifully complement any interior decor or lifestyle. With parquet flooring, you can enhance any room, big or small, according to your taste and preferences. 
Although traditional parquetry patterns were crafted using solid timber, modern parquetry patterns are commonly created with engineered timber flooring, offering not only easy installation but also an eco-friendly method to produce enduring oak parquetry.
Let's break down the different parquetry patterns you could bring into your home.
Cremorne Project – Beach House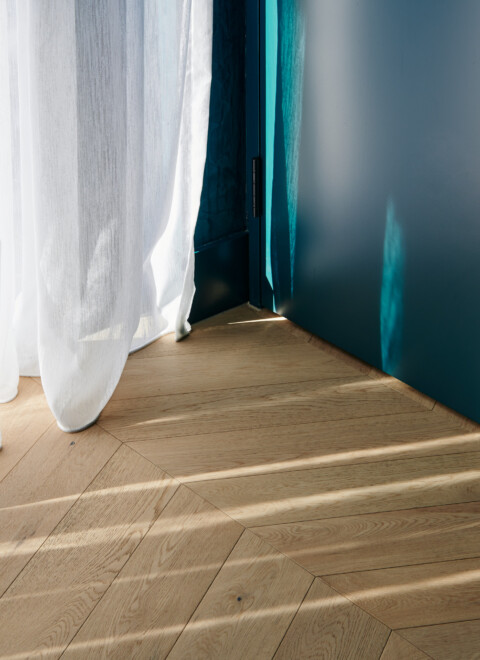 The perks of parquetry patterns
Aesthetic appeal
Parquetry flooring adds a touch of elegance and sophistication to any space, with its intricate patterns and beautiful designs that can be tailored to suit your personal style.
Versatility
With a vast array of patterns to choose from, such as herringbone, chevron, and basket weave, there's a parquetry flooring style to complement every type of interior décor, from classic to contemporary.
Durability
Engineered timber used in parquetry flooring is built to withstand wear and tear, making it a long-lasting flooring option that retains its beauty over time.
Eco-friendly
Engineered timber flooring is a sustainable choice, as it uses less hardwood than traditional solid wood floors, reducing the impact on forests and natural resources.
Easy maintenance
Parquetry flooring is relatively low-maintenance, requiring just regular sweeping, vacuuming, or damp mopping to keep it looking fresh and clean.
Allergy-friendly
Unlike carpet, timber floors don't trap allergens, dust, or pet dander, making parquetry flooring a healthier option for those with allergies or respiratory issues.
Increased property value
The timeless appeal and high-quality craftsmanship of parquetry flooring can increase the value of your property, making it a worthwhile investment for homeowners.
Insulation benefits 
Parquetry flooring has natural insulating properties, helping to keep your space warm during the colder months and cool during the summer, ultimately reducing your energy bills.
Customisable
With the ability to mix and match different wood species, colours, and patterns, parquetry flooring offers endless possibilities for creating a truly unique and personalised floor.
Acoustic properties
The solid construction of parquetry flooring can help to reduce noise transfer between rooms, making it a great option for multi-level homes or commercial spaces where soundproofing is a priority.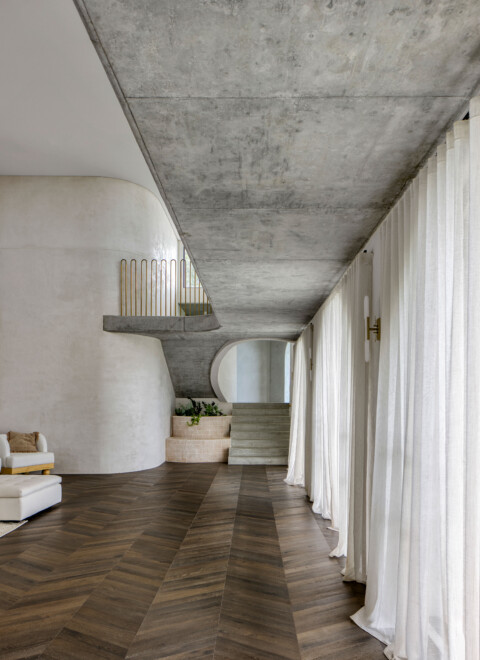 Parquetry patterns: the rundown
Herringbone
Herringbone is a classic style used in parquetry, and it remains a popular choice. This pattern is named after its resemblance to the bones along a fish's spine. 
To create the herringbone design, wood tiles are cut into rectangles and arranged at a 90-degree angle, forming a broken zigzag effect.
Chevron 
Chevron is another favourite pattern in parquetry flooring. Similar to herringbone, the wood tiles are arranged in a zigzag pattern. However, the wood pieces are cut at an angle, so they fit together in a sharp point, creating long lines in the room and a striking final result.
Basket Weave
Basket weave is a more intricate pattern compared to chevron or herringbone and boasts a unique, elegant aesthetic. This pattern involves wooden tiles arranged in an interweaving design, often using contrasting colours to accentuate the effect. Basket weave parquetry can be installed diagonally or parallel to the wall, depending on your preference.
Brick Bond
A brick bond parquetry pattern replicates the aesthetic of a brick wall. The rectangular wooden tiles are arranged in straight lines to create the brick look, with tiles staggered. Brick bond parquetry is generally easier to install, and you can use longer tiles for a gorgeous finished product.
Chantilly
Chantilly Parquet Timber Flooring, named after France's Château de Chantilly, is a luxurious flooring. It involves assembling small wooden blocks into geometric patterns, and is renowned for its aesthetic appeal, durability, and distinctive character. 
Mosaic
Mosaic parquetry involves assembling small, square blocks of timber into a repeating geometric pattern. Often laid in a basketweave or checkerboard design, this type of flooring showcases the natural beauty and grain of the wood. 
Checkerboard
Checkerboard parquetry uses square wooden blocks arranged in an alternating, two-colour pattern to create a striking checkerboard effect. The contrasting shades of the timber blocks highlight the natural grain and color variations of the wood. This flooring design is appreciated for its bold visual impact, durability, and its ability to add a classic yet contemporary touch to any interior space.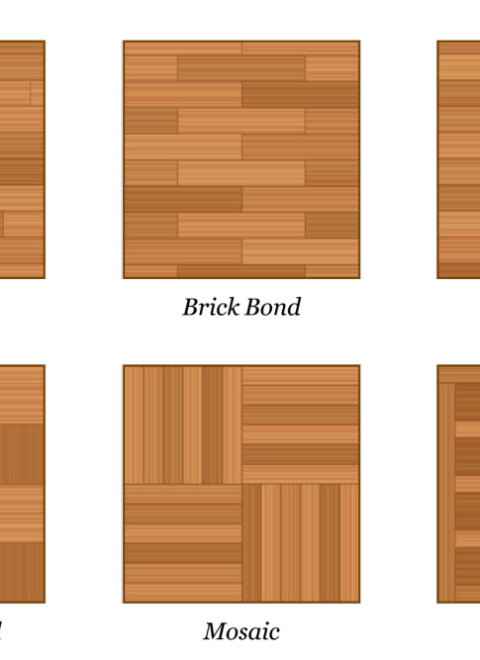 How to care for your parquetry flooring
Caring for parquet tiles is a breeze. Regardless of the wood species used—be it European oak or other types of engineered parquetry—most parquetry flooring patterns are coated with a polyurethane finish. If you're unsure, just ask us! 
After installation, wait at least 3-4 days before moving furniture into the room. In colder conditions (below 10°C), you might need to wait a few more days. 
Avoid dragging or rolling heavy items across the floor, and use felt pads on the bottom of furniture to prevent dents in the surface. 
Keep your flooring grit-free with a dust control mop, and have your parquetry floors inspected every 5 to 10 years by an expert to determine if you need a buff, sand & repolish, or even a new stain to refresh your flooring.
See how we prioritise maintenance and aftercare.
Parquetry patterns: a timeless investment
In a world filled with countless flooring options, parquetry patterns in engineered timber flooring truly stand out. These patterns offer elegance, sophistication, and versatility, making them an excellent choice for homeowners, interior designers, architects, and builders alike. 
Our friendly team has years of experience in crafting exquisite parquetry patterns in engineered timber flooring, and we can guide you through choosing the perfect parquetry pattern for your space. Get in touch with Kustom Timber to start planning!