When it comes to choosing something a little different for your flooring, timber parquet flooring is a stunning option. Parquetry involves laying wood in a mosaic-style of pattern and it offers a beautiful feature for the home. However, some people are hesitant to choose parquetry for their home. As experts in parquetry flooring in Melbourne, we've heard our fair share of myths around choosing parquetry flooring and today we'll debunking a few.
Myth #1: Parquetry is only for older homes
We often hear people say that they love parquetry but can't incorporate it into their more modern home. While it's true that parquetry dates all the way back to 17th century France and stunning examples are often found in older homes, parquet flooring also blends seamlessly into modern homes. In fact, parquetry is often the perfect solution if your modern home has large, open spaces and you need an option to add warmth and interest.
Myth #2: It's not as durable as floorboards
With the intricate style and look that comes with parquet flooring, it's understandable that some people think that it simply won't last as long as traditional flooring. However, if you use quality engineered timber parquetry, you're investing in a tough and durable flooring solution. Not only can it stand up to foot traffic, engineered timber is also resistant to moisture and can be used to great effect in humid conditions.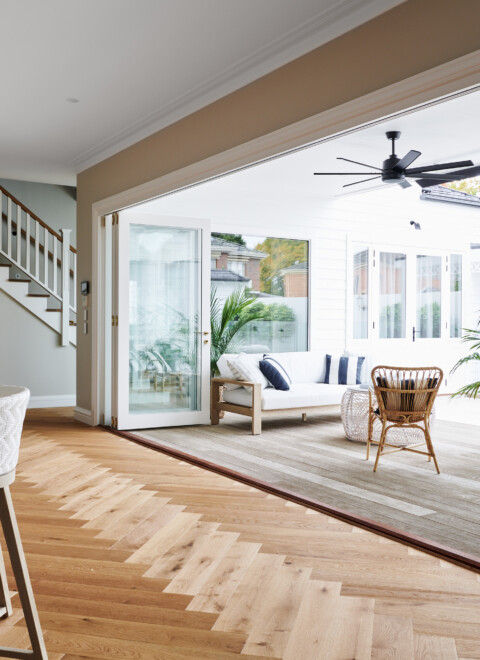 Myth #3: Parquetry is hard to maintain
With all that intricate detail, parquetry must be a nightmare to maintain, right? Wrong. Parquetry flooring is just as easy to clean as regular wooden flooring. It's just a matter of getting out the vacuum to get rid of dust and occasionally mopping with a specialist wood cleaner. As with any timber flooring, clean up any spills straight away to limit contact with moisture.
Myth #4: You're limited with the choice of styles
While it's true that the more traditional styles, such as chevron, herringbone or basket weave, are the most widely used parquetry styles, there are plenty of other options available to add a point of difference to your parquet flooring. There are so many patterns available for you to choose from and as an experienced parquetry floor installer, the Kustom Timber team can help you choose a style that you love. Even if you choose a more traditional pattern, you can mix it up with a more modern finish.
Melbourne-based Kustom Timber provides customised engineered oak parquet flooring to truly transform the look of your home. Our professional end-to-end service means that you'll be left with high quality flooring which will stand the test of time. Whether you want a traditional parquetry design, such as chevron or herringbone, or want something totally unique, our professional team can help.
For stunning oak parquet flooring options, contact Kustom Timber today on (03) 9645 3857.