There's just something about the gleam of polished wooden floors that speaks to us all. Warm and welcoming, with a softer underfoot feel compared to tiles, timber flooring is a gloriously elegant addition to stylish homes the world over. And for those who struggle with allergies, the ease with which you can clean off dust mites and pet hair from the surface of wooden floors is simply supreme, making it a good choice for various health requirements.
As the years go by, floorboards may get weathered with the occasional scratch or mark from a shoe, a furniture leg, or pet paws. But, if maintained well, you'll have beautiful timber flooring for generations to come, with only the occasional major maintenance required.
But why do you need to clean your wooden floors?
From flooring manufacturers, to builders, to interior designers, they'll all tell you the same thing: timber floors are easy to clean and provide gorgeous pay-off for little effort. There are a few key points to remember when trying to ensure that your floors are maintained beautifully year in and year out.
Remember: avoid moisture and excessive dirt, and use protective shoes and furniture pads. These are your best bet to maintaining the surface of your wooden flooring for longer. Be mindful of pointed heels, water and food spills, dirty shoes, and even your beloved dog's nails on your floor, as over time, this can cause micro-scratches and stains that wear down the polished surface.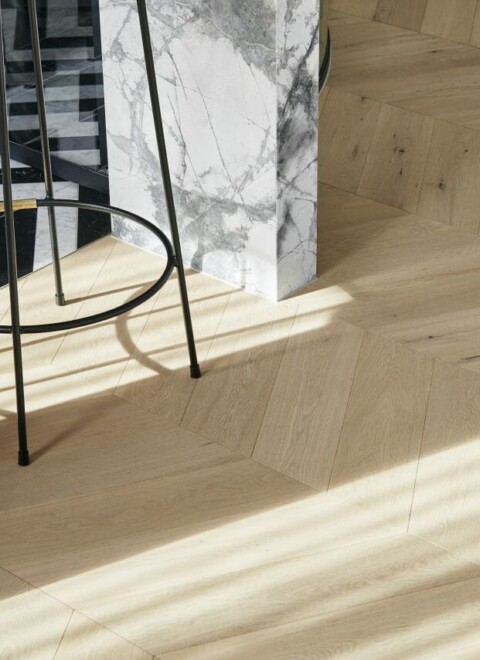 Top Tips for Cleaning Floorboards
Cleaning wooden floors is actually simpler than you may think. There are just a few key differences to think about, especially if you're used to carpet or tile flooring. If you're wondering how to care for timber floors, read on.
Be careful with the cleaning solutions you use
For starters, cleaning solutions must be used with care. With tiles, you can use good old soap and water to mop your floors and wipe away stubborn stains, leaving it to dry. When it comes to timber flooring though, you must be a bit more vigilant, and always make sure to read the label if using commercially-made cleaning solutions. If in doubt, refer to your timer flooring installer for advice, as they will know which products are best suited for your specific flooring instead of abrasive cleaners. Often, it will be a ph neutral floor cleaner that will be your best bet.
Use soft bristles for weekly maintenance
For weekly maintenance, a soft-bristled broom or a vacuum is best to sweep away accumulated dust and other larger particles that may scratch against the finish of your flooring. This is usually all that you will need to do to ensure the integrity of your flooring's appearance, especially if there is little foot traffic. Make sure to mop up any spills quickly, and dry the surface, as everyone knows that timber's worst enemy is moisture!
However, for monthly maintenance and high traffic areas, and if there are concerning stains and the like that you wish to remove, you may be thinking about how to get a deeper clean on your wooden floors.
Regularly clean with wood floor cleaner
The only way to really know what to use with your floor is to be aware of what it has been sealed with. Drop some water on the floor, leave it for a minute: if it soaks into the wood, you have an unfinished, or varnished floor. If the water remains as droplets, it will be a polyurethane or acrylic finish. Most floors will be the latter, of which an alkaline water-based cleaner made into a mild solution will work best. Make sure to use damp, well-wrung microfibre mops to minimise the moisture contact, and to go over your floors after damp mopping with a dry microfibre cloth to buff them dry.
Check out our range of floor care to ensure your timber floors get the proper clean and maintenance.
Get floors professionally cleaned
For a surefire way to maintain your floors, get the experts to take proper care of your floors semi-regularly. This will extend the life of your floorboards in between refinishing services.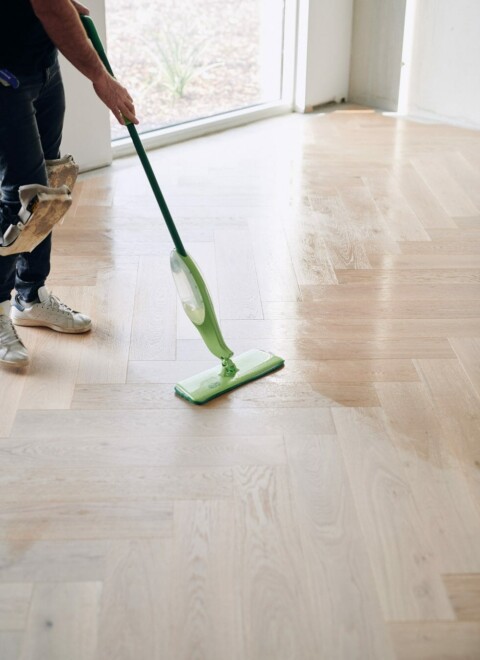 Can I mop wooden floorboards?
When it comes to stains, experts agree that mopping with simple soap and water can go a long way in ensuring that engineered timber flooring, pre-finished or otherwise, are clean and sanitised. The most important thing to note is that because wooden floors do not react well to moisture, you must always squeeze the mop as much as possible before using it. None of the sopping wet mopping jobs for your hardwood floors allowed!
When mopping, a rule of thumb is to mop following the grain of the wood – as mopping in the direction of the grain lessens the risk of unsightly residue marks in the end result.
Can I use vinegar on wooden floors?
When searching up how to care for timber floors, a lot of homemade cleaners pop up in the search results. But be careful! Some people use a mixture of vinegar and water with soap, but this can damage your floor's finish because of its acidity, and leave an uneven mark on its surface. Some experts don't recommend it for this reason, as it can damage the seal on your floors.
What should you NOT clean wooden floors with?
Some commercially made floor cleaners may be too harsh for your flooring and can be abrasive to its finish. All-purpose floor cleaners can also contain traces of bleach and other harsh chemicals, which will damage your floor instead. Always read label of cleaners to ensure they're suitable. It is also always advised to check if your cleaning solution will work with your timber flooring products by doing a patch test.
Still lost? Play it safe with our range of floor care products.
How do you make timber floors shiny?
Have dull-looking floors after years and years of foot traffic leading to scratches on the surface? Your timber floorboards may be well-suited for a re-sanding and polishing, which rejuvenates the floor to pristine condition. Refinishing your floors is generally recommended every 3-5 years.
Conclusion
Remember, a high-quality installer will not only place any quality timber flooring impeccably and efficiently but will also help you keep it at it's the best condition over the years by providing you information on the best methods of maintenance.
Contact the friendly Kustom Timber team if you have any questions!