Engineered timber is Australia's most popular choice for floors, but in 2022 we're seeing it make a dramatic shift from flooring to walls, ceilings and more. "It's all part of the current trend for nature-inspired interiors," says Mark Chaz, co-director at Kustom Timber. "With the biophilic design movement, which encourages a connection to the natural world, in full swing, and many of us looking to create a little calm in our lives, timber cladding in all its forms is back in vogue.
"Homeowners looking for that connection with nature are thinking beyond indoor plants – they want simple, beautifully designed spaces that draw the outdoor world into their homes and help them switch off. A material like timber is tactile and honest – the perfect antidote to all the time we've spent on mobile phones and tablets over the last couple of years," he says.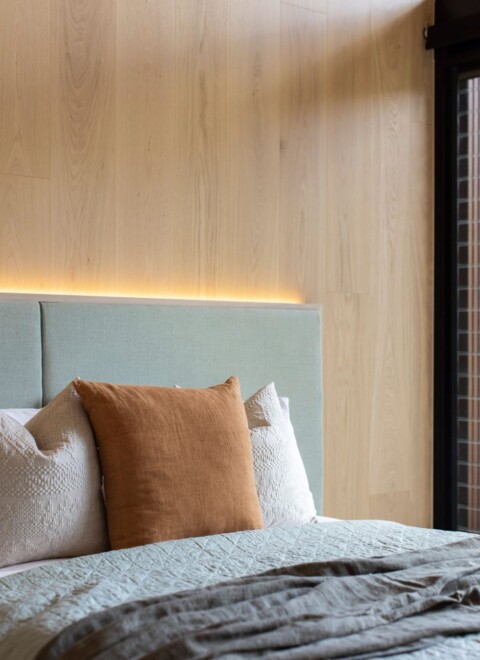 Engineered timber is cropping up in unexpected places in design-led homes across the globe, including walls, ceilings and even as features on furniture and joinery such as sideboards and wardrobes.
It's easy to see the appeal; "Unlike the flimsy plywood cladding that was so popular back in the 1970s, engineered timber creates a solid and sophisticated look on walls and ceilings. Our engineered timber flooring can be used horizontally or vertically, and also comes in chevron and parquetry formats so you can create a patterned look. It's specially heat- and moisture-treated to suit Australian conditions, which means it won't swell or warp and will look beautiful for decades. Plus, timber is ideal for sound and thermal insulation, helping muffle noise and keeping your home cooler in summer and warmer in winter."
Engineered timber cladding is a great way to modernise a room without a mammoth renovation, says Chaz. "It's quick and easy to install and will add instant character and warmth to a room. You can even use it to disguise uneven walls and ceilings. And it goes beautifully with other popular natural materials of 2022, such as stone, brick and concrete," he says.
Create a cohesive feel in space by running the same engineered flooring from your floors to your walls and ceiling, or create a striking look by contrasting your engineered timber floorboards with chevron or herringbone timber wall panelling in a different tone. Highlight a dramatic pitched ceiling by lining it with engineered timber or go for a subtle sense of contrast by choosing wide boards for floors and walls and slender boards for the ceiling, all in the same timber colour.
Add interest to a dull bedroom by running a floor-to-ceiling strip of wall panelling behind the bed. Or design one-of-a-kind furniture or joinery pieces, such as a credenza in the dining room, a wardrobe in the bedroom or kitchen-island facing, with engineered timber boards or parquetry.
"Darker boards with plenty of contrast on your walls or ceiling will add a cosy, rustic feel to a space, while lighter boards with less grain will create a cleaner, more minimalist feel – ideal for a Scandi or modern coastal aesthetic.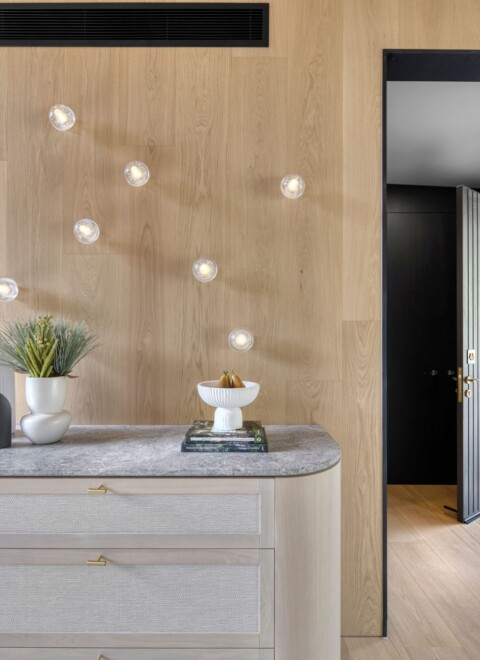 "Really, the only limit to what you can achieve with engineered timber is your imagination!" says Chaz.