Nearly 1 in 5 Australians (more than 4.6 million people) suffer from at least one allergy. 
For some people, these can be food-based. For others, there is an abundance of allergens we encounter every day when we step outside our homes. Smoke, dust, mould, pollen, dust mites… and the list goes on. These are all possible triggers that can make allergies worse. 
And what's more, those who suffer from allergies are also part of the 80% of asthma sufferers, so it's important to think about how to best minimise harmful and annoying environmental triggers where you can, since a lot of people may not realise that flooring can be a major culprit for allergies and asthma. 
So what do allergic reactions look like, and what are the symptoms you need to look out for? What's the best flooring for allergy sufferers? We've put together a quick guide on the ins and outs of fitting out your flooring being mindful of allergies, so that you and your family members have a safe space that's as allergen free as possible.
Allergic Reactions
Sniffly nose, itchy eyes… sound familiar? 
It can be easy to think of allergies purely in terms of food allergies and anaphylaxis. But in reality, there are thousands of little allergens floating around out there (not to sound threatening or anything). 
An allergy is a condition in which the immune system reacts abnormally to a foreign substance. For some people, these foreign substances don't cause an immune response to spike, but for others, their immune response can range from mildly annoying to extremely inconvenient. When it comes to flooring, things such as pollen, dust mites, mould, bacteria, pet dander, and other chemicals can reside in certain types of flooring, and stay there if not cleaned and maintained properly, so it's important to think about what would be the best flooring for allergy sufferers if you're known to get sniffly on the regular. 
Allergy Symptoms
Symptoms differ depending on the severity of the allergy, as well as the allergen itself. In general, people experience symptoms such as:
itchy, watery eyes

allergic rhinitis, or sneezing and an itchy/runny/blocked nose

shortness of breath

cough

itchy red rash or hives

swelling of the lips, tongue, eyes, or the face

stomach pain

nausea

vomiting

diarrhoea

dry, red, cracking skin
It's difficult to live with allergies, and a lot of people don't realise that the right flooring choices in the home can actually help alleviate allergy symptoms. Often it can be hard to stay vigilant against allergens, but setting your home up to minimise allergens from staying on surfaces can not only help with allergies but with indoor air quality, too. 
So what is the best flooring for allergy sufferers?
What is the best flooring for allergies?
Carpet is a no-go
When it comes to flooring options for allergy sufferers, carpet is generally considered to be the worst choice.
This is because the fibres of the carpet can trap allergens such as dust and dirt which can exacerbate allergies. Carpet also traps moisture, making it the perfect environment for mould if not cared for properly.
Carpet in the bedroom can be particularly problematic for allergy sufferers, because you're exposed to dust and allergens throughout the night while you sleep.
Think about it this way: even when homeowners vacuum daily, professional carpet cleaners will still take out a lot of hair, fibre, fur, and dust when they come in for a clean. While vacuuming helps to remove the top layer of pollutants, it's not enough for a deep clean, and can still cause allergic reactions to occur even to your best intentions.
Engineered timber is ideal for allergy sufferers
While carpet is one of the worst performers when it comes to trapping allergens, timber flooring is a different matter. 
The smooth surface of timber means that there are no surfaces for dust and allergens to become trapped. Dust mites also struggle to live on timber flooring due to the lack of moisture. For allergy and asthma sufferers, the best flooring for allergies is timber, especially as it's easy to maintain, made with minimal chemicals that can exacerbate allergic reactions, and easily wiped down when spills and messes occur.
Of course, other hard surface flooring such as laminate flooring and tiles are also similarly effective when it comes to preventing allergens from building up in the home. However, with timber flooring you have the added bonus of aesthetic and warmth that you just can't get with tiles. 
Not only that, but timber is undeniably longer-lasting than laminate and has a warmer. So if you're for fllooring that looks great and helps you feel great, one of your best options is engineered oak flooring.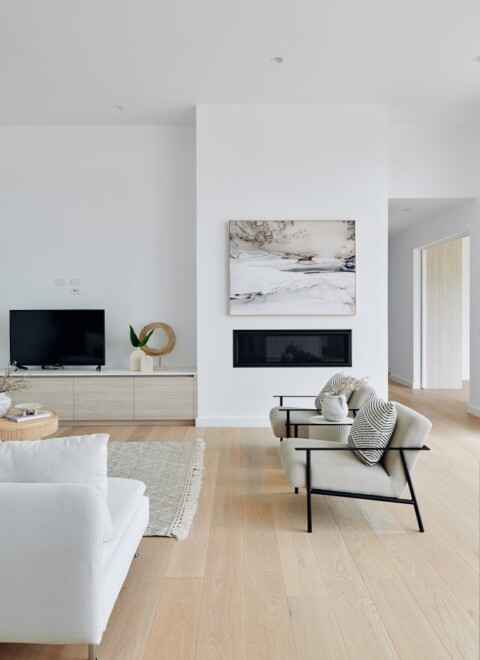 How to keep your timber flooring allergen free
While engineered timber flooring is the best flooring for allergies sufferers of common allergens, you still need to maintain your floors so dust doesn't build up and become airborne. 
Clean regularly!
Do a proper vacuum once a week and remember that dust that is stirred up can take 20 minutes to settle again – keep this in mind before you or allergic household members re-enter a freshly vacuumed area. You should also aim to do a quick mop on a weekly basis as this will pick up dust and dirt without stirring it up. Not only does this routine minimise the allergens on the floor, it also keeps your timber flooring well maintained and looking their best! 
Bonus tip: even if you've chosen timber flooring over carpet, remember that floor rugs will trap allergens just like carpet so pay special attention to them when vacuuming.
Be mindful of dirt and spills
Make sure to remove your shoes when you're inside to prevent scuffs and marks from heels and mud from caking onto the surfaces, and if you must use rugs, go for low pile rugs that have a lower risk of trapping allergens on its surface.
Make sure you clean up spills as soon as they happen, too! You don't want any moisture to sink into your flooring and create a space for mould to grow. 
Ensure your timber flooring is VOC free
You've probably heard the term VOC used before. VOC stands for Volatile Organic Compounds – essentially all of the gases and vapours emitted from manmade solids or liquids. Or, to put more simply, those nasty chemicals you don't want in your home. They can cause a short-term or long-term negative health impact. 
VOCs are often found in lacquers, paint, cleaning supplies, and even our drinking water, which means they can be pretty difficult to avoid. That's why you'll want to find timber flooring that is VOC free. 
We ensure all of our engineered timber is VOC free (or low VOC, as no product can be 100% VOC free). The adhesive we use ot bind the timber and plywood is a water based polymer cured with isocaynate (which can be found in pretty much any and all furniture!). 
In fact, there is nothing harmful in our timber once it's been laid. The dust from the wood itself poses the most risk, which is why we recommend our customers to stay out of the house while we're laying their new floors. Rest assured, the dust settles quickly and we do a deep clean and nourishment treatment after every install to ensure your timber flooring is clean and dust-free.