Hardwood floors hold a certain appeal that is difficult, if not impossible, to replicate with any other flooring type. What makes them so beautiful is the striking natural charm that comes with any wooden feature in your interior design, and considering that the addition of hardwood flooring to any home boosts its property value, it's a no-brainer to consider having wooden flooring installed in your home. But as with any significant home project, you'll be wanting to ensure that your floor renovations are not only going to be worth it in the long run by being durable and long-lasting, but will also maintain its elegant quality without too much fuss. Below, a few tips to get the most out of your new hardwood floors not just after installation, but throughout the years of use you are expecting out of it.
Cleaning and Shining Hardwood Floors: Natural Methods
Once you've decided between whether you are after solid planks or engineered timber for your home interior flooring, it's important to consult with your chosen installer to know the specifications of your new floors. This information is significant, especially considering that the more you know about your newly installed flooring, the easier it will be to come up with a maintenance plan. Having one in place will ensure that you will help keep your floors looking brilliant for longer, as well as making it easier for you to adhere to a regular floor cleaning schedule.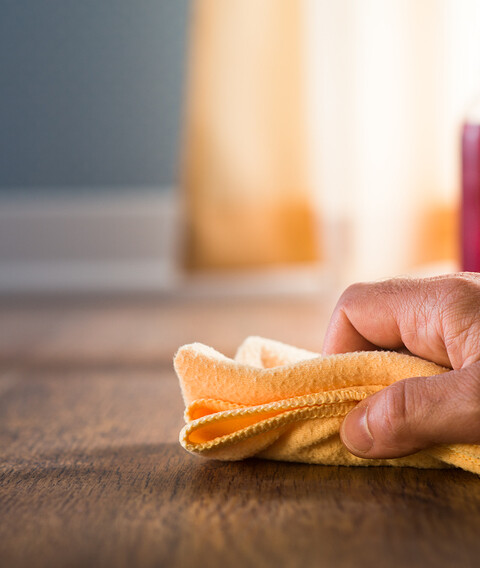 In general, hardwood floors benefit the most from regular sweeping with the use of soft bristle brooms, or light vacuums. Not only will this keep away dirt buildup that is common to all flooring types, and which can be harmful for family members if not removed, it will also prevent foreign objects from causing damage on the surfaces of your floors from friction and pressure from foot traffic. For harder to remove stains, a damp mop specifically made for hardwood flooring is best. And because moisture is a hardwood floor's worst enemy when it comes to keeping its beauty intact, make sure to wipe straight afterwards with a dry towel to minimise its exposure to moisture. Regardless of what design and pattern you've chosen, these are the basic ways to clean your hardwood floors while being gentle on its surfaces.
When it comes to shine, there's nothing quite like the sheen of freshly installed hardwood flooring. However, over time and use, the finish can fade slightly, and you may want to try and rejuvenate your flooring to make it look good as new. But before you buy the first-floor polishing solution you can find to do this, it's important to be aware of what type of finish was used on your floors.
Most wooden flooring is usually surface-sealed to ensure that they are stain and water-resistant. This can range from polyurethane, polyacrylic, to urethane surface sealants. The way to clean and shine these types of floors will differ from how you would maintain floors that are lacquered, varnished, or finished with oil.
Surface-sealed floors are quite easy to clean – just use the aforementioned mop with your chosen hardwood floor cleaner, buff dry with a soft cloth, and you will be left with floors that are not only clean, but are also shiny.
When it comes to floors that are penetrating seal-treated or oil-finished, you can still mop and dry as usual, but you may find it is necessary at certain points to use liquid or paste wax to keep them looking good as new. This would also be required if your floors are lacquered, varnished, or even shellacked.
Best Hardwood Floor Cleaner
Once you've figured out what your floor's type of finish is, the next step is to find out what hardwood floor cleaner will work best for your wooden flooring. Always take into consideration the manufacturer's recommendations for maintenance, and adhere to those guidelines as close as you can. Do your research before you buy a floor cleaning product, and spot test on one area of your flooring for adverse reactions to the surface before using it all over your floor area.
And if during your research, you see recommendations that say vinegar is a good ingredient to use for your wooden floor cleaner solutions, refrain from using it! Vinegar's high acidity ensures that regular use of it on hardwood floors will degrade its durability and integrity, as the acid can chip away at the sealant and finish.
Ensure that you are only using the right amount of your cleaning product. When it comes to hardwood floors, less is quite certainly more – you don't want to be continuously mopping away detergent from your floors, especially considering how moisture can warp your hardwood if left damp for too long. And just as vinegar shouldn't be used as it is a harsh and acidic solution, try to make sure that your chosen cleaner will be gentle on your flooring. If you have surface-sealed flooring, you don't need oil or wax to amp up your floor's shine again – a simple mop and dry will work wonders for the revived sheen of your floors, and prevent slippery surfaces that can cause accidents in the future.
Conclusion
If in doubt, ask the installer who provided your Melbourne hardwood flooring service for recommendations on what types of floor cleaner are okay to use on your floors, as they will know what will work best with their product and can give you suggestions on gentle and safe wooden floor cleaners. And if your floors still aren't looking their best even after all of this cleaning, it might be time to call in the experts for a professional hardwood floor polish. You can choose to keep your floors the same, or you can even do something different and restain your floors in the process, changing up the look of your interiors if you so desire. The choice is yours!