With the range of different flooring options available on the market, it's no wonder that it can be a difficult decision if you're looking to revamp your home. However, at the top of most people's list when it comes to new flooring is timber thanks to its stunning aesthetic and durability. If you're sold on timber but aren't sure whether you want to go with a solid or engineered option, we'll be taking a closer look at what you should know about engineered timber floorboards.
Durable construction
Quality engineered floorboards are designed to be durable, with the ability to last generations. Engineered wood is comprised of a top veneer of solid hardwood and then an inner core comprised of layers of high-density wood.  This construction makes it more stable than solid wood and better able to withstand moisture, which is perfect for humid conditions. As well as being strong, they're also lightweight.
Better for the environment
It probably comes as no surprise that engineered flooring is a more sustainable option than solid timber. While solid timber is made solely of hardwood, only the top layer of the floorboard used hardwood when you choose an engineered option so you're using up far less slow growing hardwood. The rest of the plank is made using more sustainable wood options.
Same look as solid timber
If you love the look of hardwood timber floors, this doesn't mean that solid timber is the only answer. Engineered timber offers the same aesthetic as solid planks, as the top layer is made from genuine hardwood. This means you still get the character and unique flaws in the wood like you do with solid hardwood.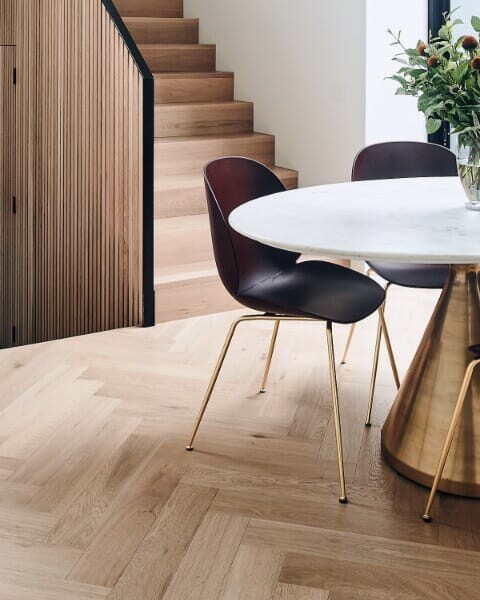 Range of styles
When engineered flooring first entered the market, there were only a few options available. However, now there is a huge range of styles and finishes so you can find a Kustom Timber style which perfectly suits your home. One of the added benefits of engineered floorboards is that they're also available in wider plank sizes compared to solid timber.
Easy to install
When it comes to installation, engineered wood is generally a much easier prospect than solid timber. Engineered timber can be installed directly onto the subfloor or can be installed as a floating option – this makes it quicker to install so you can enjoy your new floors sooner!
At Kustom Timber, we provide stunning engineered timber flooring which will transform the look of your home. We personally oversee the manufacture of our products, using high quality materials designed for Australian conditions. As a testament to our focus on sustainability, we use only renewable FSC approved oak trees. Whether you have a small home renovation or a large commercial project, our professional team can help.
For quality engineered timber flooring in Melbourne, come down to our showroom at Kustom Timber or give us a call on (03) 9645 3857.